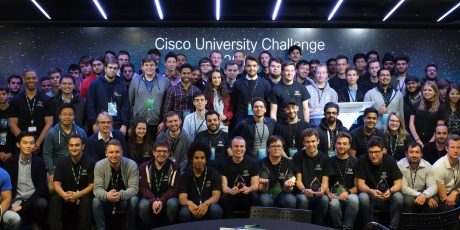 Start-up Hub
University Challenge, Cisco style
The Cisco University Challenge began in 2014 and has been hosted on a yearly basis at Bedfont Lakes since then.
Far from panels and Jeremy Paxman, though, our challenge consists of a 24hr hackathon that pits teams of some of the UK and Ireland's most talented students against each other in tackling real life issues.
Our University Challenge differs from traditional 'hackathons' in the sense that it's focused on software challenges faced not only by Cisco, but also issues that our customers and partners are experiencing.
These challenges are framed into problem statements that we task the student teams with developing software innovations for.
Tackling the big issues of the day – in a day
It's a sizeable task for the time given: not only is a proof of concept prototype in software expected, but the teams must also produce a project plan with a viable go-to-market business case that includes all the usual market analysis, value proposition, competitive advantage and project management roadmaps.
It's not all work and no play, though – we like to think of the day as 'a party with deliverables.'
We really throw Cisco culture at the participants over the course of the challenge: technology product tours, mentorship, food and drink, video games, mini competitions and, to show we can do start-up culture with the best of them, beanbags!
It's a great opportunity to show off the unique working culture we have here at Cisco.
This year, at our fourth event in three years, we were joined by around 80 students from 18 different universities taking on four different problem statements.
These statements were focused on different verticals, with the 2016 picks being retail, IoT, manufacturing and engineering, and, for the first time, a free-for-all open category.
All the teams had a host of tech available to help them come up with a solution, including Meraki and DevNet Technologies API's like Spark, Tropo and Mantl.
At the end of the hackathon, the teams pitched their ideas to an expert panel of Cisco staff, which this year included, among others, CEO Scott Gardner and Chairman Phil Smith.
After the hack
After the event itself, it's all about working with our finalists to help them take their ideas to the next level.
With a general consensus that this year's Hackathon produced some of the strongest solutions yet, we decided to invite three teams to present what they'd come up with to some of the people best placed to support them on the journey to start-up success.
Last Thursday, we were joined at IDEALondon by pitch teams from Teesside University and The University of Glasgow (fellow finalists from The University of Bath were unfortunately unable to make it on the day).
Visual Rescue, from Teesside, and Notify, from Glasgow, pitched their solutions to a panel that included representatives and innovation chiefs from Capital Enterprise (project manager, Nathan McNally), University College London (Dr Alistair Moore and Daniel Fozzati) and Cisco (Tom Kneen, with Bob Garland Nicholas Edmund joining via TelePresence) – and a couple of IDEALondon residents and alumni too.
Into the den
First up, Visual Rescue presented an idea which focuses on being able to visualise data to improve rescue responses to natural and geophysical disasters.
Using a clever system of sensors and simplified data visualisation, the team outlined how Wi-Fi and Bluetooth could be used to help locate survivors and track aid works across a disaster zone.
With a focus on data mining and machine learnings to derive patterns from previous experiences, as well as 'dummifying' data presentation to make it more accessible to all kinds of aid workers, the Teesside team aimed to take on the four key problems of time, cost, planning and safety in disaster response programmes.
They were followed by Notify, from The University of Glasgow, who came with a bold claim: that they were going to revolutionise ecommerce by successfully bringing together online shopping with the hands-on experience of bricks and mortar.
Spurred on by a stat – that only 3% of products browsed online each day actually end up being purchased – the team sought to find out how to capitalise on people's habit of looking around endlessly online without converting to the checkout.
It's all about, they told the room, reinforcing the 'urge to buy.'
The idea behind Notify, an app, is connecting browsing data with bricks and mortar store stock levels to let people know in real time – when walking past a shop, for instance – when an item they've looked at is in stock.
A purchase can be made directly from the app, and then collected with a code instore. Buying is incentivised with the use of discount codes – and of course the click-and-collect style convenience.
Youth of the future
Both teams came up against – and responded robustly to – plenty of questioning from the panel.
Most encouraging, though, was to see these conversations continue over a light lunch, with the students eager for feedback and those in attendance keen to hear more about their ideas.
So what's next? Well, incubation, we hope!
Most of our contestants have still got some studying to do, but they can do so assured in the knowledge that there'll always be a hot desk for them at IDEALondon whenever they're in town.

Tags: