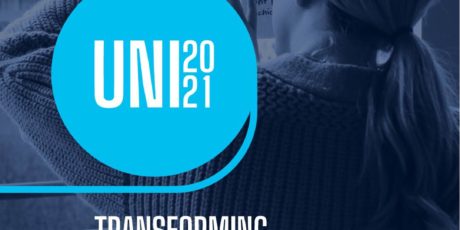 Digital Transformation
Universities' induction into the future digital campus
Universities across the UK have experienced a monumental shift over the past year. The pandemic and the government restrictions have challenged the fundamental aspects of university life.
What were once buzzing campuses filled with learning, socialising, and collaborative research, are now empty, lifeless corridors and classrooms.
It has tasked everyone – from students and researchers to leaders – to contend with numerous challenges and re-evaluate the way they learn and operate.
As we have seen from news reports, students are concerned that online lectures and social isolation has hindered their academic success and social life. This has led to students like Yolanne Lee, an electrical and electronics engineering student at University City London, making big changes to their approach to learning.
Meanwhile, many university leaders, such as Michael Rovatsos, Professor of AI, deputy vice principal of research, and director of the Bayes Centre at the University of Edinburgh, have been grappling with the task of replicating the valuable experience of campus collaboration online.
This has meant the long process of identifying where traditional processes no longer fit and how they can be changed, as well as asking what the best tools are to facilitate a worthy tertiary education.
While these challenges have manifested people's lives in different ways, the common concern is technology. How can it provide the university experience needed? Is what universities have put in place good enough? And how can it be improved and incorporated into the future of education now investments have been made?
An opportunity to challenge tradition
While university life may have been fraught with difficulties and changes, opportunities for better efficiency and more innovation can often bloom under these circumstances. And this has inspired our most recent research: The Digital Campus: Delivering for students beyond the pandemic.
Here we've collated our findings to help universities understand:
– How students want the university experience to improve, and how leaders can implement these changes
– How universities can optimise infrastructure, operations, and processes despite lack of budget.
– How the tech that's been invested in so far can be harnessed to build sustainable, long-term growth.
To bring you these findings we've worked with Coleman Parkes to survey 500 higher education decision-makers and 2100 students from a diverse range of institutions.
We're also sharing stories from university students, researchers, and leaders so you can hear first-hand what their experiences have been, how they've adapted using technology, and what they want to change as some sort of normality begins to resume.
This includes Roberto Maluenda, a clinical psychology researcher from Chile, who is currently undertaking his doctoral studies. The move to online prevented his vital face-to-face interviews with his subjects, and set back his research timelines. He shares how he's addressed this, and in turn has reaped new possibilities to further his vital research which is helping to improve therapist and patient relationships.
Emanuel Tilley, professor of engineering education and director of the integrated engineering programme, similarly shares the difficulties in moving to digital learning, especially when trying to implement accessible tools for international students working worldwide. However, she details what this move towards a more international reach could mean for the future of universities.
Francisca Mutapi, Professor of Global Health Infection, and Immunity at the University of Edinburgh also shares how she's managed to continue collaborating with her colleagues in Zimbabwe to tackle COVID-19. As well as how she feels technology with shape virology studies going forth.
Over the coming months through our blog series you'll also hear from Stephen Ewing, Director of the Bayes Centre, and Raymond Macdonald, chair of music psychology and improvisation, both from the University of Edinburgh. Stefan Guldin, associate professor and head of adaptive at University City London will also bring you his thoughts from over the past year.
While the campus will always be at the heart of universities, the pandemic has shown that technology and digital transformation can offer new realms for students, researchers and leaders to explore.
These realms make up the digital campus.
You can learn more about our findings here: The Digital Campus: Delivering for students beyond the pandemic.