Cisco UKI
Transforming the face of Technology – one Leader at a time
It seems to be a trend for me at the moment to grab every opportunity I can to be digitised, this week especially!
For example at the Grace Hopper Celebration event there was an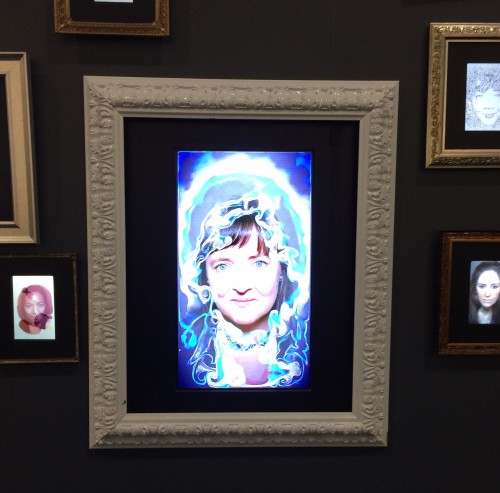 art gallery which started with empty frames. By the end of day one it was full of photos of technical talent and I was up there alongside my heroines of Ada and Grace – a big moment for little old me.
This, alongside many other recent examples, shows that the face of technology is certainly changing. During the keynote we were introduced to two new heroines, Hilary Mason and Clara Shih. 10 years ago they were both sitting shyly at the back of the GHC event (which then was only 800 strong) as college undergrads. They are now both CEOs and founders of successful companies – and still tech nerds. All very inspiring for all attendees young and not so young!
I must admit to realising my heritage – when one of the speakers referred to a question posed multiple times on the web "Why do drive letters start with C: instead of A: or B:"? Genuinely, the majority of the audience did not know (I'll leave any techy types blushing in shame to Google that one yourselves!)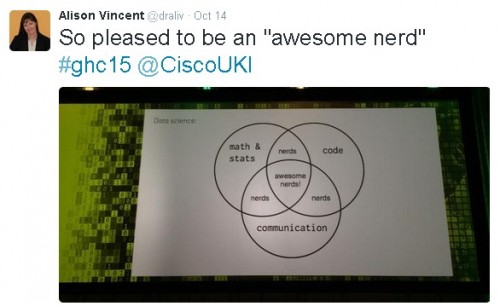 Another classic highlight "If someone from the 1950s suddenly appeared today, what would be the most difficult thing to explain to them about life today?" The answer – "I possess a device, in my pocket, which is capable of accessing the entirety of information known to man. I use it to look at pictures of cats and get in arguments with strangers!" We're not in Kansas anymore (well actually we are in Houston!)

The Cisco stand and evening party were both great opportunities to meet and inspire the future generation. We introduced them to "Penelope" – the spirit of innovation that lives in all of us and watched as they filled walls with their own inspirational quotes.

I am definitely surrounded by heroines and future leaders. What exciting and digitising experiences can day 2 hold?!

Tags: