Cisco UKI
The great leveller…and an elusive cup of tea
For the last 2 weeks I've been splitting my time between sunny San Jose & San Francisco getting to know my American colleagues in our Global teams. It wasn't all Californian wine and sunshine though (…I promise) and as I wait for take-off back to blighty there were a few other things I thought it was worth sharing:
They don't know how to make a proper cup of tea over here.
Cisco's San Jose campus is huge. Seriously huge.
I mean it's really really big. Take that idea in your head and double it. And again. There we go.
It's a lot more than just your standard giant tech campus filled with drones. Turns out there are real people here with independent goals, innovation and a drive to make things happen.
And once you get over the mispronounced words (I can't stop myself hissing 'sssss' after they say 'Math'. It is short for Mathematics after all!) something interesting becomes apparent… we're all focused on exactly the same thing.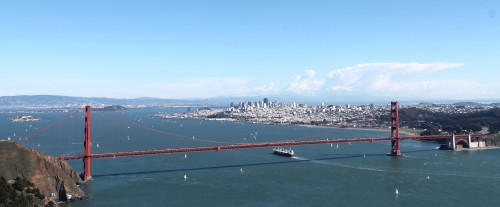 Ahh I get it now…that's where the logo comes from…
IoE – the great leveller
The Internet of Everything is more than just a brand or marketing pitch, or the latest industry buzzword. I visited the IDC Directions event, several leading agencies and even overheard people on the BART (it's the tube, but with people that talk…I know, weird right!) and everywhere I went people were speaking about IoE. Whether they knew it or not.
IoE is everywhere, in all of our lives, and it's not a future tech. It's here now and people aren't just ready for it, they are actively looking for it. Wearables are a good place to start, and the most obvious choice for consumer interest. There will be 16.4 million wearables by 2019 up from just 2.8 million in 2014 (see The Rise of the Wearable) and the cross pollination of industries is bringing more and more unlikely players into this and other IoE related areas.
And did you ever think Apple would be a fashion brand? Well as Sarah tells us in her blog the iWatch made appearances at Paris Fashion Week and they also recently hired senior people from Burberry & Yves Saint Laurent. And it's not just Apple, last year Google hired a former executive from Calvin Klein for the Glass project. Ok that one didn't go so well but you get the point.
Google are also now rumoured to be entering the car insurance industry – well this 'search engine company' already make cars, so why not? Nike is an app developer. Car giant GM has just hired 8,000 coders. Tesco is in the virtual reality business.
As one of my agency colleagues out here put it "Now that everything is being connected to the internet (people, processes, data and things) all companies are becoming tech companies. They just happen to specialise in certain areas."
And actually making this all happen, enabling the Internet of Everything, that's where we come in.
So where next? Well I'd happily chat about the possibilities of IoE disruption for ages. But unfortunately the air hostess is glaring at me for not turning my laptop off…and she's really got that "I've just done two red-eye flights back-to-back so don't mess with me" look on her face.
…and I guess there go my chances of her making me a proper cup of tea. We'll have to pick this up another time.
UPDATE: Don't worry I made it. And here it is – my first real cup of tea since landing in England. Huzzah!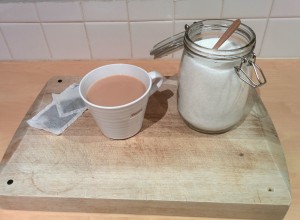 Tags: