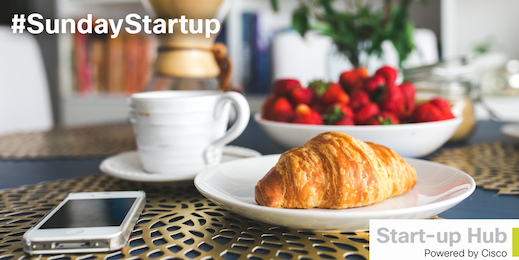 Start-up Hub
#SundayStartup no. 13 – the top five stories for tech start-ups this week
A week on from the last #SundayStartup, and the Brexit vote is still making waves. There's been some time for reflection though, and the tech industry has been trying to assess the immediate and future impact of Britain's EU referendum decision.
This has meant consideration of how leaving the EU might affect London's current standing as a European start-up melting pot, or whether a city from across the seas might take up the mantle. On the other side of the pond meanwhile, Hillary Clinton faces an important vote of her own and has thrown her weight behind tech in an encouraging bid to impress the electorate.
And if all of that's a bit heavy for a Sunday morning, the clever bunch at Massachusetts Institute of Technology (MIT) have been teaching robots to predict the future of comedy.
The race is now on to replace London as the new start-up capital of Europe thanks to Brexit
Quartz surveyed the European landscape to find out who the main players in a post-Brexit tech Europe might be. Dublin, Berlin, Amsterdam and Stockholm could all be in the running, with the UK's expected exemption from favourable EU workforce movement which could affect many of London's start-ups. But it's not all doom and gloom as…
…TechUK calls for government to help tech sector 'power UK back to growth'
Tech City News reported on TechUK's five point plan for the government to support the tech sector in restoring the UK's growth trajectory. With a strong history of economic success, the industry body (representing 900 companies and 800,000 employees) is confident that, with the country's legislators on board, tech sector could be the catalyst that kickstarts recovery for the UK.

UK tech firms unite to push against 'Texit'
Investors and analysts are uniting behind the UK's tech sector too, The Guardian said. While the referendum results have certainly caused uncertainty, there appears to be a strong belief that technology is an uncertain area at the best of times – anyone who's done a live tech demo can probably attest to this, if only on a micro scale. If resilience is going to be required, then who better to enlist than tech entrepreneurs? "Keep Calm and Code On," said one VC firm.
Hilary Clinton's promises to tech
Former First Lady and the likely Democratic presidential nominee uncovered her plans for technology in the US. Of particular note are plans to campaign for open data in the government as well as wanting to appoint a new 'Chief Innovation Advisor' to reduce the regulations that can present a barrier when trying to develop new products and services. This of course reminds us of Sadiq Khan's mayoral pledge to appoint a Chief Digital Officer – part a growing trend in governments worldwide, perhaps?
And finally…
If you've ever thought about what you could learn from watching 600 hours of sitcoms, then MIT's Computer Science and Artificial Intelligence Laboratory might have an answer for you. AI bots have been bingeing on clips from shows like The Office and The Big Bang Theory and learning to recognise actions such as high-fives and hugs. Through this, the AI learned what the moments that lead to this kinds of interaction look like and could then predict when they might occur again in the future. The cruelty of being subjected to that much Big Bang Theory isn't, however, something that has appeared to cross the MIT scientists' minds.
Make sure you join us at the same time next week for another round of #SundayStartup. Until next time!

Tags: