Start-up Hub
Start-up Hub Q&A with Yury Birchenko, CEO and founder of BIG Awards 2015 winner Nwave
Last October IoT company Nwave beat off competition from 150 start-ups to bring home the BIG Awards 2015 prize. At the time, CEO and founder Yury Birchenko described winning the $220,000 package as being "rocket fuel for us".
So, what's happened in the past six months? We caught up with Yury to find out what the company has been up to and his views on the IoT space.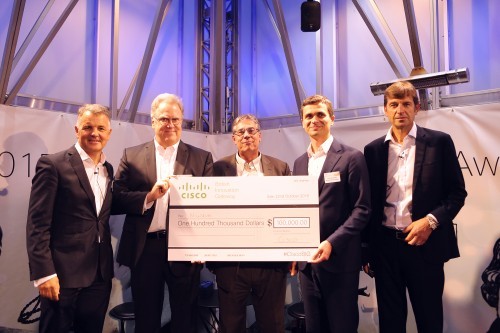 So, you won the Cisco BIG Awards 2015 – what's been going on for you in the past six months?
Yury: "The last six months were pivotal in terms of product development.
"Recently we have expanded our products by making the world's thinnest, most accurate and longest range parking sensor. Our second product is a universal agricultural data logger. We're delighted with the mechanical design and it has passed extensive field trials in the most harsh weather conditions.
"After delivering few successful pilots we now stand at a very exciting inflection point seeing how our products start scaling commercially and making life smarter both in big cities and countryside landscapes." 
You recently announced a partnership with Nominet – can you tell us a bit more?
Yury: "As a first step of our partnership, we helped Nominet to introduce smart car parking at the company's headquarters in Oxford. It was essentially an experiment for Nominet to test a number of IoT features, to demonstrate how this could be applied in a smart city environment.
"Now we are looking to scale to fully commercial projects with predictive analytics and smartphone navigation."  
What are your plans for 2016? Where would you like to be this time next year?
Yury: "We've got market-leading IoT products for parking and agriculture and the next phase is building our partnerships in those areas. Raising finance is also on the cards to further invest in our product range and expand our technology and marketing teams. Over the next two years we see Nwave as a leading IoT connectivity and hardware 'building blocks' provider for smart cities and precision agriculture."
Do you feel that the Internet of Things has a risk of being over-hyped? If so, what can be done to remedy it?
Yury: "It's difficult to talk about IoT as a whole, but I certainly think that the Low Power Wide Area Network (LPWAN) connectivity space has a marketing issue around clearly communicating the technology's capabilities.
"I think that overselling on features like the number of nodes in one cell, real-life range and power efficiency may create significant stalling when proof of concept projects start to scale. The IoT is about thousands, sometimes millions, of devices talking simultaneously, so testing scalability at all architecture levels as early as possible is a must." 
What has winning the awards meant for you?
Yury: "Winning the Cisco BIG Awards last year was a great achievement for Nwave – as an IoT company you could not think of any higher regarded endorsement in your space.
"The cash prize provided a very important and well-timed runway extension that allowed us to complete two critical milestones in our R&D road map. Mentoring from Cisco was another great aspect of the prize. We found IP and patent strategy advice to be particularly useful for Nwave's development."
What's it like working with Cisco? How do they help or get involved?
Yury: "Cisco is extremely useful when it comes to providing critical and focused help for start-ups. It's a highly agile and efficient company, especially given its size.
"I guess having entrepreneurship DNA in its culture, it is not trying to create "glasshouse" conditions and "connect all the dots" for you. Cisco programmes are about bringing a lot of "new dots" (potential customers, tech and business mentors, events) and giving you some hints on how to make things work. For example, we are now joining the Cisco Solution Partner Program which will enable us to sell our products with a global reach through the extensive network of Cisco customers and clients.
"This approach is exactly what ambitious start-ups need."
***
Do you know someone who would benefit from this content? Feel free to share with your social networks and help us spread the word.
If there's a topic area you'd like us to cover in more detail, or if you have a question you'd like to ask, please let us know in the comments below or drop us a line at startupsupport@external.cisco.com.

Tags: