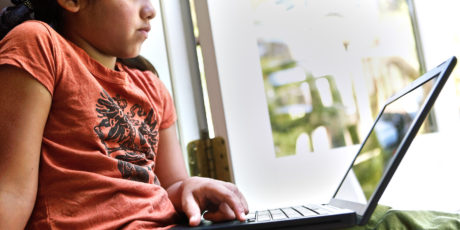 Cisco UKI
Education, charity and healthcare professionals: Free support to get the most from remote working
The education, healthcare and non-profit sectors have always been at the heart of life in the UK.
But until a few weeks ago, schools and charities usually delivered services in person – whether with pupils in a classroom or volunteers on-site.
Now teachers and charity workers are working remotely, often for the first time, and that can bring new challenges.
How do you deliver an engaging class to 40 pupils sitting in different rooms?
Equally, how do you stay connected to colleagues and volunteers as a charity worker – or use technology to deliver services remotely?
To work well remotely, you don't only need the right technology in place, but an understanding of how to get the most out of it.
At Cisco, we've already made Webex, our powerful conferencing tool, and its advanced features free of charge.
Now, we're partnering up with IBM to deliver a volunteer service that will help schools and non-profits to get the most out of remote working – and support the vital work in these sectors. Furthermore, we've now also extended the initiative to healthcare professionals and care homes.

The benefits for schools and non-profits
Webex can offer a range of benefits for schools and non-profits, not just reliable video calls.
For teachers, that might mean running classes using virtual whiteboards, screen sharing and applications to communicate with pupils.
At non-profits, it might mean staying connected to colleagues throughout the day, recording and sharing presentations for your whole volunteer base or sharing resources and support remotely.
Importantly, Webex is underpinned by Cisco Talos – an advanced cybersecurity service, that uses artificial intelligence to protect against threats and offer peace of mind.
But everyone has different levels of digital confidence, especially in organisations where remote working or teaching is new. Getting personalised support can help the whole team to feel confident more quickly.

Getting the most from remote working
Over 600 employees at Cisco and IBM have volunteered to offer support for schools and non-profits.
These volunteers use Webex on a day-to-day basis and can offer personal advice based on their own experiences, on both the technical skills and the soft skills behind remote working.
That might mean:
Creating a free Webex Meetings account
Installing Webex Meetings, setting up and recording calls
Making use of advanced features like whiteboards, screen and applications sharing
Engaging participants from many miles away
Running remote meetings as productively as possible
Every school and every non-profit organisation will use Webex differently. Our volunteers are here to help you feel confident and comfortable – to get the most out of remote working.

A long-term link
We're hoping to share insights that won't only be useful to meet current needs, but provide valuable skills over the longer term.
Now that so many organisations have experienced mass remote working, and therefore know what's possible, it is likely to become a more central part of private and public sector organisations in the future – and could provide a valuable option for delivering services.
Developing remote working skills now may be useful for charity workers, teachers, volunteers and pupils in the years ahead.
Many of our volunteers will have a local link to the schools and organisations that they help, as organisations are matched based on location.
You might even develop a long-term link with your volunteer, who can continue to provide support and share insights once the pandemic is behind us.

Supporting your incredible efforts
Our volunteers are passionate about supporting the vital work of schools and non-profits, even in times of disruption.
In just a few weeks, teams from across Cisco and IBM have come together to deliver this voluntary service – including our IT team, corporate social responsibility experts and specialists in education and the public sector.
We've even had help from our Developer Advocacy team, who, with the help of a small team of CSAP graduates from EMEAR, have developed a chatbot that will help our volunteers to answer your questions behind the scenes.
This chatbot was developed in a record time, using Cisco's Webex Teams as a platform and IBM's Watson AI Natural Language Understanding, to match the questions of the volunteers with its own knowledge base.
On top of that, we've had hundreds of volunteers signing up from across the UK and across the business – and the list continues to grow.
Together, we appreciate everything that our teachers and charity workers are doing now more than ever. We hope that we can share our expertise in remote working, to support your incredible efforts through the outbreak and beyond.
If you work in education or at a non-profit organisation and would like support using Webex Meetings for remote working or teaching, please register here https://ibm.biz/ukcovidhelpform.
Tags: