Digital Transformation
Real-time performance metrics – the key to success
This is part of the Project Kansas blog series, click here to read all about our involvement.
Ultra-endurance events are a huge endeavour for most professional athletes. Race Across America (RAAM) is one of those that allows all abilities from amateur athletes to take part.  So, how could technology and the Internet of Things help Cisco's participant James to compete and succeed in one of the world's toughest bike races.
Most training aids today provide post-event data that can be tracked over time. As RAAM is one long continuous event, recovery time is limited to a few hours each day. Most riders will be stopping to look at snap shot data within their rest points. This lacks the real-time needed action to take appropriate measures to achieve the best possible time. James is doing his race a little differently. The ability to receive real-time performance data, continuously being analysed by the support team, (all the while James is still riding the bike) will enable the team to guide James, and advise him on what he needs to do to achieve optimum performance.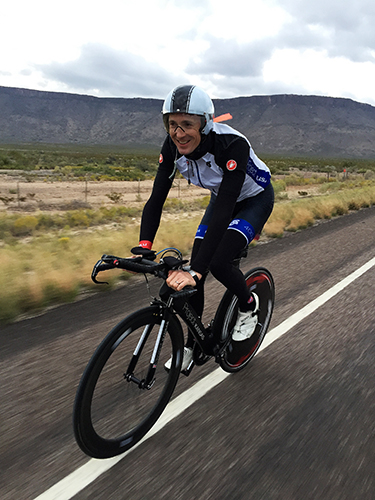 How do we do this we hear you ask? Cisco synced up our technology partner Dimension Data, to understand how we could work together, and harness the power of the Internet of Things to provide near to real-time data.
Using sensors, placed on both James and the bike, that connect to a phone using standard communication technologies such as ANT+ and Bluetooth Low Energy (BLE), we will be tracking in near real time:
GPS
Cadence
Speed
Heart Rate
With the addition of environmental data:
Route
Gradient of the terrain
Wind speed
Ambient temperature
As well as all the other physiological parameters:
Rider core temperature
Fluid and calorie intake
Blood sugar levels
Quantity of rest
Calories burned
After gathering all that information, the next challenge is to make it available to the support team; and if necessary, to sports scientists anywhere in the world for them to analyse and provide advice and guidance back to James.
Using the Internet of Things we can optimise the performance continuously throughout the event and therefore make informed, data driven decisions on how to manage the entire race.
Want to see the solution? Look below for the diagram that shows how this will all fit together.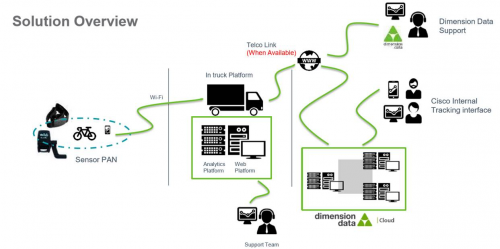 Follow the team on Facebook, Twitter and our website projectkansas.org