Start-up Hub
Raising a glass to new partnerships at the IDEALondon summer party
Verdant lawns, a string trio, garden games and a splash of Pimms – IDEALondon was looking a little different to usual on Wednesday.
"Some of you probably think you've turned up at the Shoreditch Flower Show," Tom Kneen joked as he welcomed a buzzing crowd of investors, start-ups, partners and interested onlookers to the IDEALondon Summer Garden Party.
Also in attendance were some particularly special guests in the form of our new partners EDF Energy.
"IDEALondon is all about partnership, collaboration and innovation," said Tom, "so it's particularly exciting to welcome EDF and all the new opportunities they'll bring."
Check out the video below to see what went down:
Collaborating across sectors, borders and bridges
Also speaking at the event, Lord Prior, who heads up the government's business, energy and industrial strategy, was keen to celebrate the international effort that IDEALondon now represents.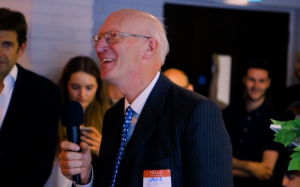 EDF (or Électricité de France) of course originates in France, Cisco in the USA and UCL was founded here in London. Lord Prior couldn't resist a few light-hearted jibes about how far we've come since the booming cotton textiles of 1815 – the year, too, of the Battle of Waterloo.
Jests aside, the point was clear: we've ridden the waves of industrial disruption before, and the digital future is one we should embrace.
The last time Lord Prior worked on the country's industrial strategy it was the 1980s and the focus was steel, coal, and shipbuilding. Today it's clear to him that digital will now lead the way.
With this, between 16 and 18 million current jobs will be phased out over the next 20 years, said Lord Prior. If we don't address the social implications of Industry 4.0 then we stand to lose the benefits of these technological developments.
Vincent de Rivaz, CEO of EDF Energy, couldn't help but agree (though he did point out, comically, as a French man heading a UK-based company, perhaps Britain's Waterloo victory was not eternal).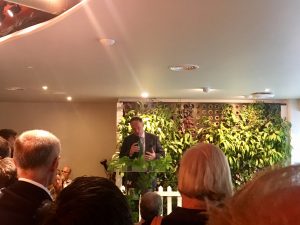 Digital, data and new technologies, he said, are driving changes not just in how we manage energy, but in how we think and behave as people too.
Technology is a means to a goal, he said, and not the goal itself – it provides another opportunity to be a force for good in the world and for future generations.
Without a 'people strategy', Vincent continued, there is little point in having an industrial strategy at all. And at the heart of such a people strategy comes collaboration – something, he said, that Britain is notably good at.
The state, he said, is the best example of an open, innovative, diverse and inclusive society, and he hopes to see it remain so.
In it for the long term
This people-centric future gaze was shared by Scot Gardner, our Chief Executive here in the UK & Ireland.
Cisco, he said, is very good at connecting things, whether in networks of people or networks of devices.
Spaces like IDEALondon and the newly launched Mi-IDEA in Manchester are testament to the power of bringing people together and creating an intersection of business, academia and government.
The world is waking up to co-innovation, said Scot, and Cisco fully recognises its value in helping to bring ideas to market successfully.
But for Cisco, collaborative programmes like those offered at IDEALondon are not about 'start-up tourism', he said. These are initiatives with a long-term view.
UCL's vice provost, David Price, emphasised that his university's focus is to carry this view forward.
Since being founded in 1826 as the first radical university in England, UCL has celebrated its pioneering spirit.

As well as being the first university to have professors of engineering, economics, and languages, UCL also represents the first British of the internet – a fitting sign of its current role as part of IDEALondon, David said, in leading the country into its digital 22nd century.

It's certainly a journey that all of us here at IDEALondon are looking forward to making together – Pimms in hand, if needs be!

Tags: