Collaboration
Protecting your data in the migration to mobile
Question: In the last year, what % of people have lost a company-issued PDA/tablet or had it stolen?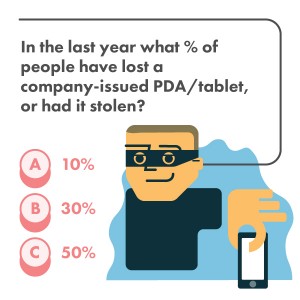 Answer: 50%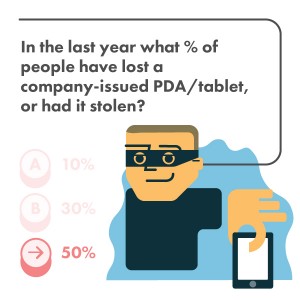 As mobile devices continue to transform the way we work by boosting employee productivity and customer engagement, they also bring their own unique security threats.
While issues around data integrity, compliance and security are – or should be – key concerns for any business, mobilising the workforce brings a new host of considerations into the equation as it becomes more difficult to control how employees use (and lose) company-issued devices.
It's never been more important that businesses tackle the issue proactively by building a solid mobile strategy encompassing all parts of the organisation – one that focuses on building a seamless remote access solution and educating the workforce on the dos and don'ts when using work-issued devices and accessing businesses information remotely.                                                                                                                    .
To learn more about the security risks your business may be facing and the measures you can take to tackle them head on, visit http://www.cisco.com/c/dam/assets/sol/mob/security-threats/index.html

Tags: