Digital Transformation
Planes Trains and Automobiles… yes also boats!!!
Technology is an enabler to a major shift in how we use transportation – the need for connectivity as we move around is essential – high speed and resilient connections to trains, planes, ships and cars for multiple requirements is becoming essential.
The necessity for vehicles of all types to send and receive control and sensor information as they move around delivers improved maintenance, fuel economy, improved safety, reduced congestion and lower repair costs through a real-time always on connections.
Movement tracking can provide real-time traffic and route information and local driving conditions. Monitoring car movement has also lead to lower car insurance through recording the way vehicles are being driven!!! There will be many deployment use cases – for-instance instead of driving wishfully around car parks in the hopes of finding a space, you could be notified and then book a space as it becomes available – with parking payment automated in the process too.
Passengers in transit also benefit by being able to connect online for entertainment and news – watch the latest TV shows or complete those last minute meeting preparations!!!
Lets look at where transportation will benefit from being more connected.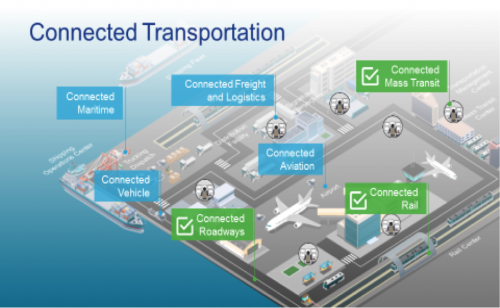 Connected Aviation
The airline industry is embracing technology innovations more than ever before to improve safety, security, and passenger services.
Airports are seeing millions of passengers and thousands of flights per year and these numbers are ever increasing, being able to predict and monitor passenger numbers and support airport operations more efficiently are driving connectivity and communications between airport services.
Connected Railways
Railway and train operators want to improve passenger and employee safety. They need to provide a growing number of services to passengers, staff, and control systems. They are seeing an increasing number of passengers using the rail networks and the ability to support and grow the service as needs arise is essential.
There are many individual services that operate in parallel today and linking these systems more effectively would benefit the running of train operations – for example: linking CCTV video information to automatic ticketing halls and station platform information would help in passenger flow through the stations.
Connected Shipping
Today's ports and harbours are at the heart of world trade and the movement of goods. While the shipping industry is extremely vital to this economy, the world's ports and waterways are vulnerable to a number of security risks.
As port authorities face increased security regulations and mandates, they also need to simplify operations and increase services to port operators and passengers.
Connected Roads
Traffic congestion causes massive delays in time for all those affected – add to this the cost of fuel wasted as we sit in stationary traffic – with enhanced communications that securely connect disparate intelligent transportation systems there will be improvements with traffic flow, reductions in accidents, and the ability to get a complete centralised view of road operations – providing up to date road conditions, traffic and congestion information.
Recently the UK announced that it is pushing ahead with the testing of driverless cars and lorries which we are likely to see on the major motorway networks as early as 2017 (for details please see the links below)
http://www.bbc.co.uk/news/technology-31364441
http://www.pocket-lint.com/news/137032-autonomous-cars-to-hit-uk-roads-in-2017-says-government
http://www.bbc.co.uk/news/uk-politics-35737104
This will require high quality reliable connections to the vehicles for constant monitoring, whilst also requiring the cars to be packed full of telemetry information and sensors to enable it to drive safely on the roads – probably initially on dedicated roads but eventually in amongst other road users and therefore a need to react safely to everyday situations will become a necessity.
If we look more at train transportation there are already many automated metro train services globally both in station and track maintenance, public access services and support for driverless trains – we have the Docklands Light Railway in London that have demonstrated the viability of driverless trains and these require constant and critical communications networks that provide real-time control, monitoring and the necessary levels of safety that automated transport networks demand.
See how transportation of the future will be fully connected to improve the way we move. The following short video introduces the types of solutions that will be required to deliver these changes in transportation.
As technology provides solutions to enhance our transportation systems, it comes with a need for a comprehensive communications network to support these automated services. It is in this space where we are seeing great technological innovation and where Cisco has developed key architectural designs – the Cisco Validated Designs for Transportation detail how these networks and services can be delivered with a comprehensiveunderlying network.
For more information regarding all the Transportation Solution Architectures delivered through the comprehensive Validated Designs programme within Cisco Click Here
Our ways of moving around will see major changes as new technology and innovations are introduced, with this we will indeed be able to let the train take the strain, whilst the planes, cars and ships will ease all our trips!!!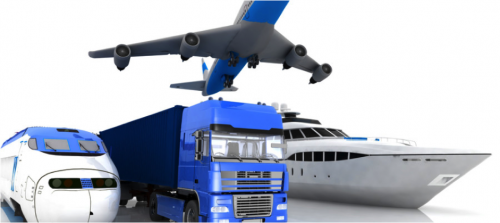 Tags: