Digital Transformation
Piecing together a plan to solve Britain's productivity puzzle
This blog was originally posted to my LinkedIn profile page, which you can find here.
You will no doubt have seen the recent press coverage regarding the gap between Britain's productivity and that of the other western economies. The latest figures show the gap is larger than at any time during the last 25 years, with April's report from the ONS showing a 1.2% drop in the output per hour. In the UK we have done a good job of maintaining high employment levels but output per hour, and output per worker, continue to be the biggest lag on our economy.
And, this isn't one sector bringing the UK average down, it's across every industry and is deep-rooted in the economy of the UK. Skills shortages, infrastructure issues and finance availability have all hampered our country's ability to increase its output. However we believe accelerating the adoption of Digital could be the answer to the productivity puzzle.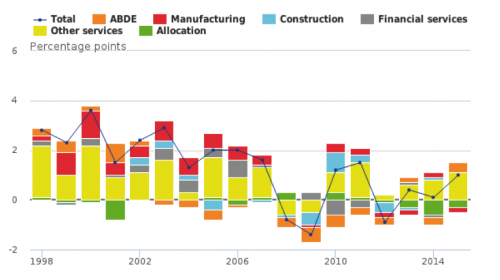 Figure 1: Contributions to growth of whole economy output per hour, UK – Annual, 1998 to 2015 from ONS
What can be done?
Collectively, we've been working more hours in recent years; this can't go on forever though. Eventually you run out of people and hours in the day and ultimately, 'hours worked' is the denominator. If you work more hours (for the same value created) the productivity goes down. Working more hours is not the answer.
Improving Productivity is not a case of working harder. It is more complicated than that. We need to work smarter and create more with the same amount of input. That's what we call productivity growth.
Addressing this UK productivity challenge is a particular area of interest for me and my team at Cisco UK. We believe that the adoption of correctly deployed digital solutions can drive the productivity of individuals, companies and the country as a whole.
The usual way of measuring labour productivity is output per hour. This actually fell by 1.3 per cent in the fourth quarter of 2015; this represents the steepest decline since the end of 2008, when the world economy was amidst the banking crisis. It means that Britain's productivity rate is back to pre-crisis levels.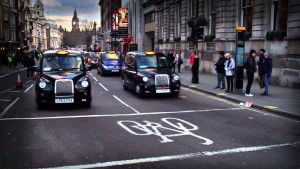 Our work in the Productivity Leadership Group
Since Summer 2015, I have been working with Sir Charlie Mayfield's Productivity Leadership Group looking at how technology can drive the UK economy forward. In particular, the project workstream I was asked to lead, "Accelerating the Impact of Digitisation", has focused on a couple of large UK sectors where we believe there are significant opportunities for productivity improvement through Digitisation.
Just last month we brought together business leaders from the UK retail and manufacturing sectors to evaluate some specific digital use cases and the barriers to adoption in the UK. We chose these sectors as they are both strategic for the UK economy and open for productivity improvement. Digital can not only enable the existing processes but also completely re-define the way they operate in the future. We want to zero in on how digital can create increased value in these industries rather than just replace manual processes.
The engagement we have had on this journey from the UK's retail and manufacturing businesses has been fantastic. There is clearly a common challenge and opportunity benefit that can be realized from increased digitisation. We have known it for a while but with the National Living Wage legislation it is clear that cheap labour is not an acceptable way to power the UK economy. The right course of action is to invest in the digital capabilities of our people and our businesses. New offerings and business models will be created from putting digital at the heart of what we do, which in turn will create new job opportunities. At Cisco UK we have embarked upon a multi-year programme to aid this.
Cisco's commitment to UK business
We will invest over $1Bn in the UK to drive economy growth and change the landscape for the citizens of the UK. Through our NetAcad engagements we have always focused on improving digital skills and we will continue to grow this in our 'Skills and Employment' workstream. We also have an internal workstream called 'Northern Powerhouse' that is driving our investment in the IoT City Demonstrator, 'CityVerve', and digital initiatives in and around Northern cities. I will give updates on this in later blogs.
At Cisco we believe that the UK economy has made great strides since the downturn in 2008 and if we can tackle the productivity puzzle through digitisation then we will all reap the huge benefits for our companies and our citizens.
We are currently writing up our findings from our Productivity Leadership Group work on Retail and Manufacturing digitisation. If you work in these sectors, it would be great to get your view on some of the digital use cases we have come up with.
Changing industries and redefining the UK forever
Just last year, our Chairman and former CEO, John Chambers said, 'Forty percent of businesses, will not exist in a meaningful way in ten years.' He went on to say that the only companies that will survive will turn their companies into digital versions of themselves.
My personal view is that digital needs to be at the heart of UK business to ensure competitiveness against rivals from across the world. We've seen that digitisation is driving increased globalisation and creating new disruptive entrants into all manner of markets. It is therefore imperative for the UK to get on top of productivity to ensure Britain will be a leading nation going forwards; we cannot afford for it not to be.
Productivity is undoubtedly linked to both a country's and individual's standard of living, so this really is an issue that everyone in Britain feels the effect of whether they realise it or not.
Britain's recovery relies on an improved productivity score and as such is vulnerable. As a result, solving this challenge is something that we at Cisco UK are passionate about improving. The question is, can the UK move fast enough to ensure competitiveness?
Survey Response
If you have an opinion then please help us progress our thinking by completing these short surveys.
Your feedback will guide the recommendations that we publish with the government in the summer.