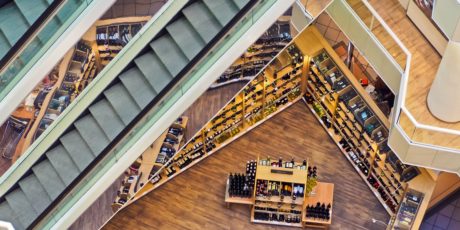 Digital Transformation
NRF2020 wrap up: envisioning the retail revolution
Another year, and another inspiring event by the National Retail Federation has come and gone.
Once more, 40,000+ retailers descended on New York for retail's premier event.  At the show, there was a variety of start-ups to heavyweight technology giants.
Not to mention yours truly, for whom it was my fifth consecutive show.
As I walked through Central Park in a shirt, the weather was oddly warm. Strange, as the forecast had predicted rain.
Perhaps it was appropriate that the theme of NRF2020 was 'vision'. And just like any weather forecast (in the UK at least), although we can do our best to predict sunshine or thunderclouds, it's never possible to be completely certain what the future holds.
Retail gets personal
But let's begin with a trend that's unequivocally set to grow: personalisation.
It's a theme that had a presence at the show and, increasingly, on the high street. In today's market, consumers have an insatiable appetite for individualisation – defining themselves with clothes and accessories that are unique to them.
Traditionally, customised fashion is expensive. One-off pieces require bespoke production lines, manually operated so that a pattern can be added here or an initial there.
But in an age of mass-customisation, this won't be the case.
From clothes to accessories and furniture, production will be digitised, and end-to-end automation will own the entire manufacturing process. Consumers will simply input their customisation criteria, and retailers will be able to create bespoke, one-of-a-kind pieces at a negligible cost to mass-produced items. Many retailers are also considering how producing what the customer wants will actually help to address sustainability and move away from disposable fashion.
Nike and Adidas are companies making great strides in this area.
Go into new innovation stores at both and you'll be able to order your very own personalised sporting goods, which are created then and there in the store via a 3D printer.
Both companies even offers instore art lessons, where customers are taught how to create their own stunning shoe designs. I think this is a great piece of initiative, and really adds to the theatrics and sense of community the high street needs to survive.
How far will personalisation go?  The key to success in personalisation will be moving the output from centre to the edge in order to provide a fast service for the consumer.
Going beyond robots
Last year at NRF2019, we saw robotics performing manual tasks like filling and re-stocking. This year, robots took a backseat to a shinier piece of tech: smart cameras.
Increasingly we are seeing cameras that can recognise actions – things like lifting up an item and putting it in a bag – which can be used to streamline the customer experience (for example, bypassing checkouts). Furthermore, data collected from smart cameras can be synthesised with other sources to give fresh insights into shopper behaviour.
The most ambitious example of this of course is Amazon's 'staff-less' store, which has been making headlines for a few years now. But how achievable is the mass adaptation of a staff-less/frictionless store on the local high street? As adoption increases and technology cost reduce, there is an argument that this type of store becomes scalable. However, this will require an overhaul of business processes.
Outside of customer experience, smart cameras have huge utility in security. Speaking to many retailers in the UK, staff safety is a top priority.
Facial recognition is increasingly popular, and it's a gamechanger in terms of identifying individuals that could pose a security risk to stores and staff.
Furthermore, as technology advances, body analytics will be able to flag when people are acting strangely. This will enable staff to keep an eye on suspicious shoppers and, if they do commit a crime, catch them red handed.
A sustainable future
Sustainability is the hot topic of the day. And at NRF2020, this was reflected in an array of ethical innovations, as brands seek to prove their green credentials.
Recycling was an area of focus, with retailers turning their stores into hubs where customers can bring their packaging to be recycled. One particular highlight was an organisation that recycled people's denim, passing it onto manufactures to make new clothes and infill for furniture.
As scrutiny increases over sustainability, I think this will be a trend that will really take off – particularly with regards to packaging.
Waitrose for example is trialling a bring-your-own packaging scheme when buying items like cereal and pasta. And with supply chains incorporating IoT technology, businesses will know the exact conditions goods are transported in – meaning they can reduce packaging to what's needed and cut down on waste.
Consumers want confidence that the products they are purchasing have been sourced, manufactured and transported in an ethical way. This trend will continue to grow as consumers demand greater visibility and insight.
Envisioning the future
While we can anticipate the broad trends of the future, it's still impossible to predict them with certainty.

In my opinion, the real winners will be those who can successfully augment physical stores with digital convenience. Allow consumers to decide what type of relationship they want with the retailer. This changes per transaction, but it's important the consumer is empowered to decide how they interact.

The term "Know your customer" has been around for a long term. In today's world, it's even more critical a retailer can leverage their customer's digital footprint as well as physical; be agile to adapt to market conditions in matter of minutes; and constantly innovate with new services to customers.

What is certain is that the rollout of 5G and Wireless 6 will add fuel to the technology arms race. And that as retailers continue to innovate, consumers will reward those willing to invest in transformative, customer-centric experiences.

Tags: