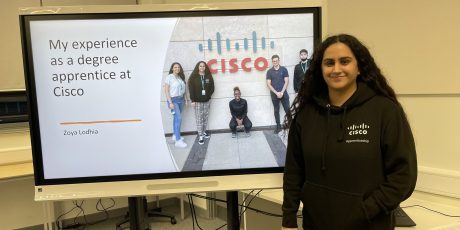 Our People
National Apprenticeship Week: Meet Zoya Lodhia
6-12 February marks National Apprenticeship Week in the UK. This week we'll be showcasing and celebrating our apprentices around the business.
We sat down with Zoya Lodhia, Systems Engineering Apprentice to find out more about what brought her to Cisco.
What drew you to the apprenticeship?
The uniqueness of the programme is what drew me to Cisco's apprenticeship.
With this apprenticeship, I can try different roles I'm interested in, instead of being tied down to one role. This was very different to all the other apprenticeships I saw, and it was perfect for me because I knew I wanted to do Tech but I wasn't exactly sure which role.
This apprenticeship allowed me the opportunity to explore what I wanted to do without being trapped in a role that I may not have enjoyed. Plus, the opportunity of gaining real work experience whilst I learnt was extremely important for me as I recognised the crucial value of work experience. Plus the prospects of gaining 24/7 experience will make me highly attractive to employers once I finish the apprenticeship.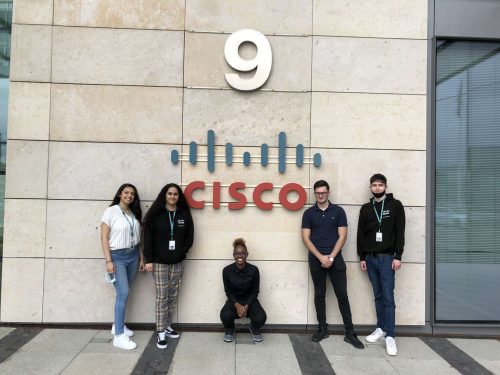 Where do you see yourself in five years?
I see myself in a more senior role at Cisco, taking on more responsibilities. It will be within Tech, most likely the Cybersecurity field, but right now I'm not 100% sure what exact role I see myself in. But the great thing is that I get the opportunity to explore what I want to do, so I know by the time I finish my apprenticeship I'll have a a more concrete idea.
Advice to people applying?
While it's important you meet the entry requirements, it's even more important that you have a passion and motivation for the apprenticeship,  make sure you demonstrate that when applying. One way it can be achieved is by doing extra learning and projects/activities outside of your school curriculum. It's imperative that you can convey that you're genuinely interested in your desired field and that you are someone who's motivated to learn more and keep on developing yourself.

Tags: