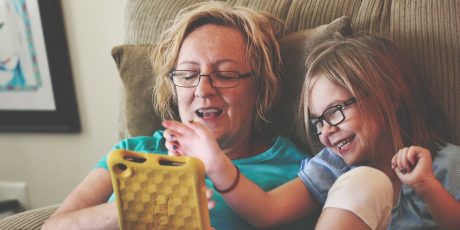 Innovation
How we're improving public services by bringing free broadband to disadvantaged areas
In 2017, one in six British adults did not have internet access at home. And 1.1 million properties do not get broadband speeds considered fast enough for daily use (source: Ofcom, Dec. 2017).
Being without an internet connection can be incredibly isolating, as it makes it more difficult to talk to friends and family, access jobs and education opportunities, and even do basic things like read the news or shop online.
It also makes it much harder for people to receive public services, like healthcare, in the home.
Sadly, those who are older, less physically able, or in a lower-income bracket are most likely to be without connectivity, and suffer the isolation this entails.
This issue, known as digital exclusion, stretches back for several years. And we've spent an equally long time trying to find a way to solve it.
The major obstacle has always been commercial viability. Who will pay for internet access to be rolled out in lower-income areas?
But now we've worked out a way that delivers real social benefit and return on investment. It's a project we're naming Connected Together. In this blog post, I'm going to explain how it works, and what makes it so fantastic.
How it works
Our project aims to install free broadband in homes in a digitally excluded area in Suffolk.
The public sector will meet the cost of the broadband based on a provider pays business model, with major savings coming out of increased productivity.
Greater productivity will be driven by a citizen-centric digital service delivery model that uses IoT, real-time collaboration, and digital-enabled staff. At the same time, it will provide a fully online citizenry, transforming the state-of-the-art from apps and online services to a fully-digital public service experience.
One issue is that when social workers are out with a patient they have to return to the office in order to access their network and systems. Travelling to and from the office is time consuming and disruptive, and has a serious impact on productivity.
The certified Cisco secure infrastructure allows public service workers access to the social services core systems directly from the home they are in, without needing to go back to the office.
The dual function of the internet connection means that it benefits everybody – more people are connected and local councils are more efficient. This multi-faceted benefit makes the project commercially viable, and overwhelmingly valuable.
And we're not doing it alone; like all the best community ventures, it's a partnership where Cisco will be working alongside Bronze Software Labs, GDS Digital Services, St Edmundsbury Borough Council, Suffolk County Council and the University of Suffolk.
The Connected Together project is part of our Country Digital Acceleration partnership, through which we've recently pledged an additional $100m to help accelerate digital innovation for the nation.
Connectivity is a necessity in today's digital world
There's a growing need to tackle the digital divide, because more and more government services are only accessible online – like universal credit.
This is part of the UK Government's plan to have 25m GOV.UK accounts by 2020, including a health and social care system that's paper free at the point of care by 2020.
As the process of digitalisation speeds up, people are more in danger of being left behind than ever. And typically it's those who suffer from digital exclusion that are most in need of public services.
Providing connectivity where it is most needed will ease the strain on public services, and it will be more cost effective.
This saving, alongside the positive effects of digital inclusion and the productivity benefits for public sector workers, is the basis for Connected Together.
An end to the digital divide
We've long believed there's a way to end digital exclusion in the UK.

And now we've found a way to make it happen. With Connected Together, we're bringing free broadband to the people who need it most, whilst simultaneously enabling the public services that support us all.

We're starting in Suffolk, but in future we'd like to see a total end to digital exclusion everywhere.

Tags: