Digital Transformation
How to digitise a fashion store
'This is a 2-part blog about our partnership with the Dandy Lab, in the first blog here you can read how the new customer journey will change the way you shop but for the retailers out there, but let me explain the tech below.'
The retail renaissance is underway and it is digital. Retailers need to act quickly before they are displaced by highly agile and online innovative competitors.
The challenges for the high-street are well documented, but digitisation is bringing even more disruption; there are now multiple complex purchasing paths, allowing the consumer to creatively access a brand anytime, anywhere. As the consumer purchasing paths develop, physical retail stores are vastly losing sales due to the exponential rise of e-commerce and digital purchasing. In a retail context this could mean the difference between being a disrupter, and being disrupted. Woolworths, Comet and HMV; do you want to be next? They have all failed because they didn't parallel societal changes.
Things you need to do:
Forget everything you knew before about your customers. 'Segmenting' no longer applies.
Create a dynamic infrastructure and agile processes to support that customer experience
Develop a new business model to enable hyper-relevance and innovation.
So here comes The Dandy Lab. Cisco's living retail lab to show you how it's done.
Inside The Dandy Lab, Cisco have installed the latest and greatest retail technology to advance the consumer experience and the retailer benefits to the next level.
The key elements: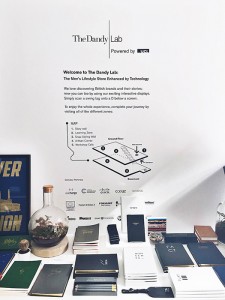 'Store in a box', it's basically what it says on the tin. Everything to streamline your operation onto one single compute platform, saving a retailer up to 50% to 80% in operational costs. As this tech supports all your backend services, this reduces the physical (server) presence and ability to transform the retail space, into new temporary shopping environments or simply demonstrate the space for customer activities like a designer workshop or host a showroom for London Fashion Week, the possibilities are endless.
Cloud. SaaS is the real breakthrough in retail – data virtualisation provides the scope to constantly adapt and overlay new applications without affecting other aspects and without the need of on-site application personnel. So wave bye-bye to the need for a data centre; this offers considerable cost efficiencies and greater agility, enhancing dynamicity. This is all powered through the Meraki Cloud Managed Wireless LAN, this is the tech that lets you do all the cool stuff, particularly EMSP (Enterprise Mobility Services Platform). As the consumer connects the wifi in-store they can login using Facebook or the EMSP platform, they are then connected to a completely customised screen tailored with hyper-relevant content. Deep dive: it uses real-time data to monetise and influence customer behaviour, integrate your business applications and enterprise systems to create a consolidated consumer driven mobile app.
The Meraki wifi access points also provide proximity analytics. This snazzy stuff captures footfall data through the power of IoT and sensor fusion. For example how many times a Shoreditch hipster walks past The Dandy Lab vs. enter the shop. This gives the store the ability to track return visits and identity customer loyalty, providing scope for in-store experiences (again, personalising consumer journeys). Retailers visually on point like The Dandy Lab, want to measure dwell time at various points in store, is their visual merchandising working? How can they optimise their store layout? Responding to customer demands is difficult but understanding them is the first step to conquering the ever-evolving shoppers mind.
We all talk about what the omni-channel experience and the 'digical' shopper are, but what 'is'? The Dandy Lab is the living space to find this out. Cisco's lean retail end-to-end solution has transformed this retail environment, can you transform yours?