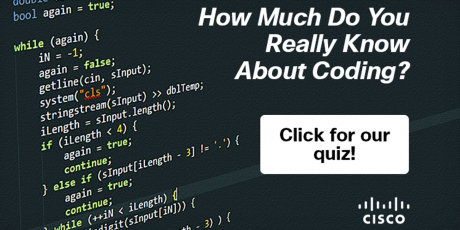 Cisco UKI
QUIZ: How much do you really know about coding?
It's fair to say coding (quite literally) runs right through us here at Cisco.
This week we're celebrating National Coding Week, which aims to inspire people into learning coding and other digital skills.
It's an issue that's coming to the fore in the UK. The Government's Science and Technology Committee says 12.6 million adults in the country lack 'basic digital skills'.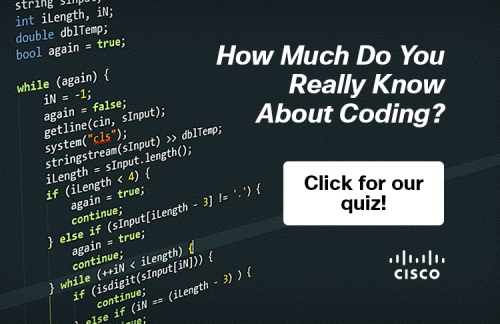 Our booming technology industry is also dealing with a wider skills shortage – with the need for more digitally skilled workers than ever before.

According to Tech City UK's Tech Nation 2016 report, 43% of digital tech businesses say skills shortages are limiting their growth.

Closing this coding skills gap is going to be key to our future success – but there's a job to be done in debugging some of the misconceptions.

So we've created a quick-fire coding quiz to test your knowledge and hopefully teach you something new.

The UK has a rich history in technology and coding and it's something to shout about!

Just click on the image above to take part and let us know how you do in the comments!

It's not just quizzing that's got us crazy about coding this week. You might have spotted over on Twitter we've also been marking National Coding Week with #BadCodingJokes – featuring some of the best/worst technology puns you've ever seen. Get involved @CiscoUKI and share some of your own efforts…!

Tags: