Public Sector
How Cisco CDA is sustainably supporting University of Southampton's learning environment
As one of the top 15 UK universities, and within the top 100 in the world, the University of Southampton is a research-intensive university with a mission to change the world for the better.
Renowned for its innovation and enterprise, its reputation for delivering excellence and a rich student experience is exemplary.
This focus on student experience and continuous development of teaching and learning had highlighted suboptimal environmental conditions within some of the Common Learning Spaces (CLS) estate.  Once of the most common examples of feedback from the student community was that sometimes rooms were too hot or stuffy.
In the university centrally owned classrooms it is often difficult to measure space utilisation against bookings.
The University is seeking to address these challenges by obtaining and analysing data around the air quality, noise levels and occupancy levels within its CLS estate. This analysis will provide accurate data from which appropriate action can then be taken.
This blog will aim to highlight how Cisco has been able to provide sustainable technical solutions to help in gathering the required data, supported by our Country Digital Acceleration (CDA) programme.
Sustainable tech in academia
Since 2015, the Cisco CDA programme's mission has been to encourage the development of sustainable, secure, and inclusive communities powered by ethical and innovative technology solutions.
This vision 'to bring sustainable digital solutions to unique problems' aligned with the University of Southampton's current challenges – making it an ideal case study to illustrate the innovative way Cisco's network can be reused to support Internet of Things (IoT) projects.
For this collaboration, the focus was to derive data that can be analysed around the temperature, humidity, noise and occupancy levels within its CLS estate.
Cost savings 
In keeping with our ethical and sustainable initiatives, Cisco's Wireless LAN access points can be used for a variety of purposes. For businesses who use our hardware, one of the key advantages is the ability to leverage investment already made by layering intelligent services on top of Cisco infrastructure.  Our WLAN customers can easily monitor and manage Bluetooth low energy (BLE), Wi-Fi tags, beacons, and other Internet of Things (IoT) sensors.
In this case, the University was able to send environmental data over the existing wireless network. By utilising the Cisco access points' built in expansion modules, we developed a module to communicate with the IoT sensors needed to record the temperature, humidity, noise and occupancy levels.
By reusing the existing Cisco network, the facilities team didn't have to purchase a niche solution to meet this specific challenge, helping to keep costs down.
Energy savings
In order to measure the temperature, humidity, noise, and occupancy levels, sensors needed to be installed in the rooms on campus.
Because we are passionate about sustainability and Green credentials, we partnered with EnOcean for the provision of sensors – they stand out in a crowded market as theirs do not require batteries. Instead, they use an energy harvesting technique which powers the sensors in a number of different ways.
One of these ways is utilising a solar cell on the front of the sensors allowing them to be charged using artificial or natural light. In other cases, the kinetic energy generated from turning on a light switch powers up the sensor.
This is really innovative as the solution is utilising existing resources to power the sensor – no resource intensive battery swap-outs are required, no batteries end up in landfill and there is no lack of data integrity due to sensors being off-line.  Energy efficiency and sustainability is at the heart of this solution.
Backing anecdotal feedback with science
It's one thing claiming to have improved particular processes, it's another to be able to prove and measure it.
So, by EnOcean providing the sustainable sensors and Cisco providing the sustainable network, we were able to develop an algorithm to obtain the required data from the teaching rooms and send it through a dashboard that can be accessed via a web browser.
The information is displayed both graphically and in tabular format; and can be exported for the facilities team to analyse.
By taking all of these measures, we were able to sustainably meet the university's overall objective to provide data that offers evidence to back up the anecdotal feedback they were getting from students and staff.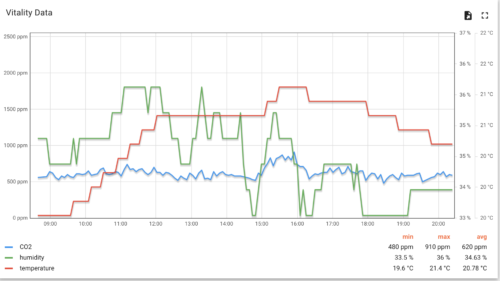 University of Southampton has been a valued customer of Cisco for many years. Through this partnership we have been able to deepen our relationship; working together to develop an innovative and sustainable solution to issues that many Universities Estate teams face.
With the data gathered from the sensors, the facilities team will be able to make any needed adjustments to their building management system and can even help lecturers book rooms that are fit for purpose.
Looking forward to the future, we anticipate rolling this out across the whole campus, ensuring that students benefit no matter which building they are studying in.
Get in touch with us to learn how we can help your business grow with sustainable technical solutions.