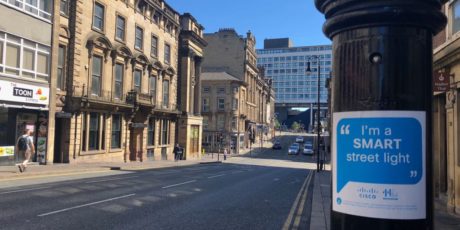 Public Sector
From smartest street to smartest city – in one year
Newcastle City Council's digital lead Jenny Nelson celebrates its recent national smart city award, reflects on the importance of collaboration and partnerships when working on innovation projects – and explains why smart technology should always be about people.
Rolling back the year
The non-stop sunshine and heady days of summer 2018 might be a distant memory for many of us, but it's one I'll remember for a long time.
From late June to September, we hosted the Great Exhibition of the North (GEOTN), a summer-long celebration of everything that makes the north of England great. And for the duration of this fantastic event, Newcastle-upon-Tyne was home to the smartest street in the UK, with sensors installed throughout Mosley Street to gather data on bin capacity, lighting, traffic, parking and air quality and road quality.
But if we did need any reminders, we received the best one of all 20th June when we won the Digital Leaders Smart City of the Year 2019 award, almost exactly a year after the start of GEOTN, and against some very impressive opposition.
As I've said before though, being a smart city is about far more than implementing innovative digital projects. Our aim has always been to create an inclusive Newcastle that uses technology to encourage growth, attract business to the area, enhance local services and develop better living spaces.
A smarter place to live, work and visit
Take the Mosley Street test bed for example.
Alongside partners like Connexin, Mayflower, Quantela, Newcastle University and of course, Cisco, live data captured by the installed sensors is now helping us plan the next stages in our smart transformation. It's also being used to examine how we can address day-to-day issues that have a big impact on people; easing congestion and improving air quality for example. In addition, Mosley street and GEOTN offered an opportunity to gauge how people feel about the use of smart technology in their city, which was very important to us.
Partnership in action
Beyond the smart street, we're innovating to improve local services, helping people remain independent in their own homes being just one area. Meanwhile, our Digital Newcastle programme is connecting academic, voluntary, public and private sector organisations to work on collaborative, beneficial projects that improve outcomes locally. And Newcastle Helix together with initiatives like the National Innovation Centre for Data and the Urban Observatory demonstrate the importance of partnerships in creating a progressive, forward-thinking Newcastle.
People first
I'm really proud that we've been named Digital Leader Smart City of the Year 2019, and delighted about the other categories we were nominated in – including AI innovation of the year for our adult social care chat bot.
Ultimately though, for me it's all about making our city a fantastic place to work, visit and live and creating a better environment through innovative solutions that benefit people, address social and economic challenges, and help us continue delivering quality services to citizens regardless of funding cuts and budget limitations.
It's all part of our ongoing smart evolution, like Mosley Street itself; the first street in the world to install electric lighting back in 1879 and the smartest street in the UK almost 140 years later.
Full circle
This time last year, we were playing host to GEOTN and the smartest street in the UK. Being recognised as the smartest city in the UK twelve months later, makes 2019 another summer to remember for Newcastle.

Tags: