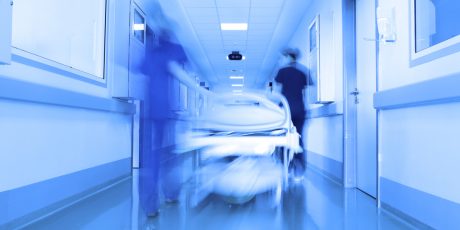 Public Sector
Fighting the cause for the NHS
How we're working to eliminate unsupported, unauthorised and counterfeit infrastructure
I talked last time about the trials and tribulations of finding yourself with unsupported equipment in your network. But what's next, and how can we help you?
Communication is key
 Firstly, be assured that we are speaking with NHS England on a regular basis with the aim of working together to jointly educate NHS trusts about these very serious issues, and how they can be avoided. We're also in contact with the Crown Commercial Service and continue to highlight our continuing concerns. More detail will follow on this as soon as the situation allows.
On a positive note, the Care Quality Commission is taking a more active interest in the 'cyber preparedness' of NHS trust. This can only be a good thing, and it's something we've been really pleased to see.
Advice from Brand Protection
In the meantime, while we await further information from the above organisations, I've been speaking with my colleagues in Brand Protection for their perspective on how to tackle this very important issue. They offered the following, very valuable advice for when you are tendering for Cisco technology; include the following words in your ITT:
"The supplier warrants that the products the supplier intends to resell to "YOUR COMPANY"
1)                 are new, sourced directly from manufacturer or its authorised resellers and;
2)                are sold by manufacturer or with its consent within the European Economic Area and;
3)                are accompanied by a valid software license and;
4)                are eligible for manufacturer's warranty and;
5)                are eligible for manufacturer's support services and;
6)                will be reported back to manufacturer as sold to "YOUR COMPANY"."
Taking the above steps will eliminate ambiguity. Which means no room for unauthorised or counterfeit equipment to find its way to you.
Taking the lead
We have to fix this.
As the NHS – and indeed, our health and social care system in general – becomes ever more reliant on IT, it is imperative that Industry takes a lead in doing everything possible to eradicate this problem for our clients – and for the hundreds of bona fide, reliable partners representing us in the marketplace.
Keep watching our blog and our health and care webpage for further updates in due course.
Rest assured, Cisco will not waver in its efforts to help you. And we will continue to work with all relevant parties to resolve this situation.
A helping hand
If you have any concerns then please, please, PLEASE pick up the phone and speak to your Cisco Account Manager.

And if you don't have an account manager? You can still contact our health and care team for information on specific issues, including how to avoid being caught out by counterfeit products.

Finally, as I said last time, our Buy Right webpage is there to help ensure the products you buy are genuine and authorised. And with finance a perennial issue for the NHS, our Refresh option offers access to high quality, remanufactured and fully licenced Cisco products, complete with the added reassurance of our support.

Tags: