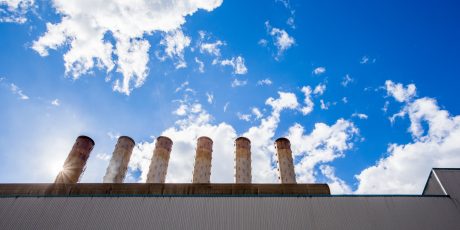 Small and Medium Business
Fast Forward to the Factory of the Future, Now! [WEBINAR]
Artificial intelligence, virtual reality, augmented reality and a starring cast of robots. All have featured heavily in science-fiction films for decades, but going forward they will all have a starring role in a galaxy a little closer to home. The factory floor.
Technology that once seemed light years in the future is already empowering some manufacturers to digitally transform their businesses and become more productive, more innovative and respond much more quickly to market trends. Or set new ones.
So important is the role of technology in maximising the future potential of UK Manufacturing that business leaders are working alongside the government on a digitalisation roadmap for industry, with the hope that new technologies can increase productivity and improve skills nationwide.
The Industrial Digitalisation Review was announced as part of the government's new Industrial Strategy early in 2017, with work by a leadership team that includes Cisco UKI Chairman, Phil Smith, expected to conclude during the summer.
 "Our review is about defining how the UK can best adopt radical new technologies that will boost productivity and create new high tech jobs across manufacturing and industry."
Juergen Maier, IDR Chair and CEO of Siemens UK & Ireland
Yet routine maintenance of operational technology, the integration of new equipment and planned IT upgrades can be all-encompassing, not to mention keeping everything secure. And when the cost of downtime adds up to thousands of pounds per minute, it can be hard to risk your profit margins by adopting technology that feels frankly futuristic.
But help is at hand! Our free webinar on Tuesday 6 June demystifies digitisation in manufacturing and outlines in clear terms the benefits of securely connecting your factory, your assets and your people.
Register now to learn more about Real World Deployments for Industrial Applications, including:
Improving Factory Floor Visibility: Specific use cases with proven high impact ROI on gaining more visibility of your assets and people
How to better manage connected machinery and assets across your organisation more effectively to drive cost savings and better business outcomes
Hear about best practices, lessons learned and pitfalls to avoid as you deploy your IoT or smart manufacturing project
For more information about how Cisco's Connected Factory for Industrie 4.0 solution is supporting our industrial customers on the path to digitisation, read our eBook. Or subscribe to this blog to see the latest industry developments and manufacturing thought leadership.

Tags: