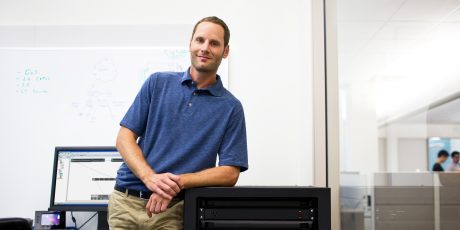 Small and Medium Business
Fall in love with tech support
If you've been burned by tech hotlines in the past — now's the time to revisit what support can really do for your business.
What has tech support ever done for you?
We get it. When you're choosing how to spend your hard-earned IT budget, that line item for the support contract seems like a waste, doesn't it?
After all, brand new kit is covered by a warranty already. And hands up if you've ever lost the will to live while some bored support agent leads you through the same diagnostic steps for the fifth time… is that really adding value to your business?
Let's set a few things straight. A support contract is very different to a warranty. And not all tech support is created equal.
Don't mistake a warranty for support
Say you've bought some switches and wireless access points for your new office. A week in and half the ports on one of the switches are clearly faulty. You have 90 days of warranty that covers hardware failure, so you get an RMA number and send the broken device back, and the manufacturer ships you a new one in a couple of weeks.
That's fine, but (there's always a but):
What happens if the hardware fails outside of those first 90 days?
What do all your staff do when they can't get online because a key part of the network is out of action for a fortnight?
And what do you do about the 95% of IT problems that aren't caused by simple hardware failure, and therefore aren't covered by warranty at all?
This is where a proper support contract comes in.
Here's what you get with something like Cisco Support Essentials, or Smart Net Total Care:
Access to resources to help you self-serve. Digital diagnostic tools, peer communities, bug databases and online knowledgebases can get you answers that Google can't.
Direct access to our Technical Assistance Centres (TAC), by phone, email, chat, mobile app or online. Our expert engineers will be there for you, for as long as it takes, to help you with not just hardware faults but configuration issues and all kinds of troubleshooting. If you've been burned by call centres before, have no fear: these guys are amazing. We've won more awards for our technical support than literally any other company in the world.
Software maintenance releases. You wouldn't leave your laptop or smartphone unpatched for five years, would you? It's just as important to keep your network devices up to date to close bugs and security vulnerabilities. With a support contract, you get those releases.
Advance hardware replacement. Don't wait for the warranty — get a new device on-site in as little as two hours. And don't worry about what happens to the old device, either. We take care of it, responsibly.
Coverage for as long as you own the equipment. Warranties run out in months. If you're going to sweat an asset for three or five years, buy a multiyear contract for the whole period. You'll save money and know you're covered even as the hardware ages.
Quality tech support is worth its weight in gold
If you want to find out more about one netadmin's experiences of working with Cisco Technical Services, check out this blog from Wouter Hindriks of Missing Piece, a small Dutch IT outsourcing company.
"I'm not on the phone with different vendors to get to the bottom of the issue. I pick up the phone, call Cisco, and they can solve any issue. When it comes to support, Cisco is one of the best organizations I've ever worked with."
See, a support contract is way more than just a warranty or an insurance policy. In fact, you might not expect it, but the right support can actually add value to your business. We put our Smart Net Total Care support package under the spotlight of IT analysts Forrester and they calculated 120% ROI, even in a large enterprise with a strong and well-resourced internal IT team.

And it's easy to get started. Your Cisco partner can get your hardware covered; pricing is simple and contracts are available for all the hardware and software we offer, including Meraki.

So if you thought that you and tech support weren't right for each other — maybe now's the time to give it another try?

Tags: