Cloud
Evolving the Public Services Network to Embrace Mobile, Cloud, and Digital Services
The Public Services Network (PSN) provides UK Public Sector organisations with a standardised ICT environment – a single assured network and a set of network services (voice, unified communications and video) from accredited providers via a simplified procurement process – Network Services RM1045.
PSN is already delivering direct cost savings for the Public Sector through implementation of agreed best practice standards, simpler procurement and the use of shared ICT infrastructure and services. It continues to deliver greater efficiencies and cost savings through its ability to support applications and shared services that will transform how Public Sector organisations are run and how they deliver citizen services.
Cisco has contributed actively to the PSN programme since 2008 and has been a major technology provider to PSN Service Providers delivering end-to-end solutions via the Crown Commercial Service (CCS) procurement frameworks. Our strong service provider relationships allow those solutions to be delivered as managed services in a cost efficient, timely manner. Cisco helps Public Sector organisations justify the investment in ICT-enabled business transformation that drives operational efficiency and improves citizen services.
The traditional private Wide Area Network (WAN) architecture is evolving, as it was designed to support client/server based applications with predictable traffic flows between clients in remote offices and applications hosted in a central data centre(s).  This one-size-fits-all approach is not agile enough to cater for the diverse user needs across the UK Public Sector and the following business drivers and market transitions are shaping a new Hybrid WAN architecture. A Hybrid WAN approach is needed to address the following user needs:
Cloud Services: Citizen services and Line-of-business (LoB) applications are increasingly being delivered from public cloud data centres and users are demanding a secure, consistent and reliable experience;
Guest Internet: The demand for Guest and trusted visitor Internet access;
Real-estate Consolidation: Multi-tenanted buildings require shared infrastructure that needs to be flexible to allow users to work without restriction;
Location Independent & Mobile Working: Users are increasingly more mobile;
Shared Services: Peer-to-peer applications are increasing as full hosted UC and video services are adopted for greater collaboration between agencies;
Application Visibility & Control: Without application visibility, business critical web-based services cannot be distinguished from general web content.
These changes are shifting the emphasis away from fixed length private MPLS WAN contracts towards Internet connectivity with flexible CPA Foundation Grade IPsec VPN services.
The Internet as a WAN service has become a more stable platform, and the price-to-performance gains can be very attractive. Until now, businesses have primarily deployed the Internet as a transport for backup purposes because of perceived performance risks. However, user needs have evolved with the increasing demand for Cloud Services and new approaches are emerging like Software Defined WAN's (SD-WAN) and Direct Internet Access (DIA) at the network edge closer to communities and end users.
Solution experts within the Cisco UK Public Sector team have created a series of solution whitepapers to complement the design patterns and principles issued by the Common Technology Services (CTS) team within GDS. This whitepaper "Evolving your WAN to Embrace Mobile, Cloud, and Digital Services" outlines how public sector WAN's can evolve and embrace Internet connectivity to accommodate the changing needs of the public sector.
The emergence of Software Defined-WAN (SD-WAN) offers to simplify WAN operations, which gives customers greater flexibility and choice with transport independence, intelligent path control to improve application availability, optimise applications and secure connectivity.
Cisco Intelligent WAN (IWAN) is an overlay VPN service which has Foundation Grade CPA assured Dynamic Multipoint VPN (DMVPN) at its foundation. IWAN provides transport independence and simplifies the network by:
Offering a platform which is agnostic to the underlying carrier network, i.e. MPLS or Internet;
Allowing the use of many different connectivity types such as Ethernet, xDSL, 3G/4G, etc… allowing the consumer to select the most appropriate connectivity for each branch office;
Using Intelligent Path Control to enable optimal routing;
Offering Application Visibility – application classification (NBAR2), performance monitor, acceleration (WAAS) and WAN intelligent caching (Akamai Connect);
Presenting a consistent configuration to the operator regardless of the underlying connectivity.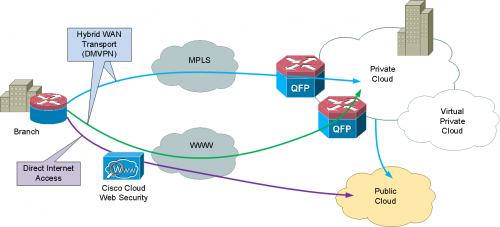 The Open Networking User Group is leading the industry to establish SD-WAN standards and Cisco's Intelligent WAN solution (IWAN) was verified against the Top 10 business requirements as defined by the SD-WAN Working Group (to learn more, read: Cisco IWAN Delivers on SD-WAN Business Requirements).

To learn more about Cisco's Intelligent WAN solution please visit www.cisco.com/go/iwan or contact your Cisco Account Team.

Tags: