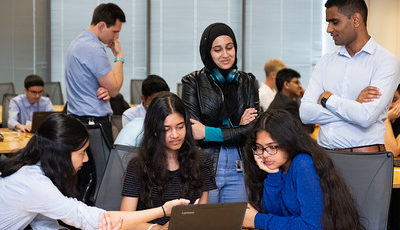 Our People
Enabling Work Experience for Neurodiverse Students
At Cisco we didn't set out to develop a work experience programme for neurodiverse students. We set out to develop a programme which gave work experience to those who really needed it – from diverse backgrounds, experiences and abilities and Pathways Work Experience is that programme. But over the years we have learned a lot about how to accommodate neurodiversity from parents, schools and the students themselves.  Today each cohort has approximately 6% of students on the autistic spectrum and this November we welcomed students from two specialist SEN schools.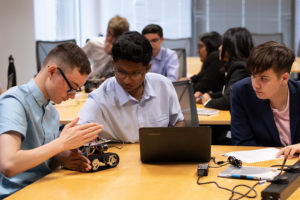 From the beginning in October 2014 we accepted applications for the Pathways Work Experience programme from schools from West Berkshire to West London.  We asked each student to complete an application form – What do you want to get out of the work experience? Why Cisco? What area of technology are you passionate about?  We also had a question about disability – not as a way of differentiating the applications but to ensure we made the right adjustments to the week to make it work for everyone who was accepted on to the programme.  Several of the students we accepted on the first programme told us that they were on the autistic spectrum. To make sure we understood the implications for those students we sought advice from the employees in Cisco Special Children's Network* who have children on the autistic spectrum.  We ran through the plans for the week with them and took their advice, making adjustments. Since then we've developed and honed the advice adjusting the programme and settings to make it work for all.
Neurodiverse people are as diverse as neurotypical people so this is just a list of adjustments, plans and processes that have worked for us.  It's by no means exhaustive.
Preparations:
All students and their parents are offered a briefing session two weeks before the work experience begins. This can be in person or online through a Webex session. We take them through some information on Cisco and the IT industry in general, the plans for the week, our expectations of the students and they have the chance to ask questions.
It's important that the students all know what is going to happen so all have a copy of their timetable in their name badges.
Some students will need to know the environment they are going to be experiencing in more detail, so we have them come into the offices in advance, with a parent, to see the key areas and talk through any concerns.
We give all work experience students lunch and snacks throughout the week. For some students that needs to be very specific so just like we cater to allergies, we also cater to specific needs for these students.  We have delivered a daily cheese sandwich – on brown bread and only red leicester cheese with a specific brand of crisps daily.  And, of course, all students can bring in their own food if they wish.  We're also really clear about when and where the food will be available.
In addition to the main rooms we use, we also book a room as a quiet space. We have around 50 students a week during work experience so some students need to know there's a space they can get away from the noise and other interactions to decompress.
Safeguarding:
As part of our safeguarding training we take all the employees who are going to work with the students through an overview of the different behaviours that they might see from these students, which they should ignore, which they should take action on.
Our risk assessment processes include reviewing any specific instructions from the schools and taking appropriate actions.
During the week:
We keep one single point of contact for the students during the week. It's important that they know who to talk to if there are any problems.
Where the students need more direct support we welcome their individual support staff into Cisco. Two students who came in from a local SEN school had a support worker present in the building at all times during their week.  The support was usually in the background but they were able to step forward and guide, encourage and support where needed.
We work hard in the different sessions and workshops to use direct language – avoiding sarcasm, metaphor and other figures of speech which can be challenging for students on the autistic
Whilst it's not usual office behaviour, it's fine to keep your coat on in the office, to carry a bag or rucksack. We have to remember that sometimes small things like this can make a difference to the feeling of security for these students.  I did have to draw the line at a student carrying a skateboard everywhere with him as it became a trip hazard but he took that well.
Some sessions are likely to be particularly challenging – perhaps group work or interview skills. In those sessions we keep an eye out for increasing behaviour tics or stimming and we step in where necessary.
Feedback:
We provide feedback on each student that comes to a Cisco work experience programme. These students are no different but we try to focus on positive constructive comments to help them develop further on their pathway to employment.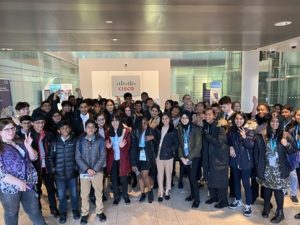 Being truly inclusive means also supporting the students who come into Cisco for work experience with no specific requirements.  We work hard to help them understand why one of their group is behaving differently. Perhaps encouraging the ones showing leadership skills to bring together the entire team and adapt their approach to get the best from the team.

So at Cisco we hope that we are delivering a truly diverse and inclusive work experience programme.  If you think we're missing something critical please do contact me directly.  We work continuously to evolve and improve the programme.

*Cisco Special Children's Network strives to create a support network by driving awareness to and mobilising internal and community resources for Cisco employees and their families who are caring for children with special needs.

Tags: