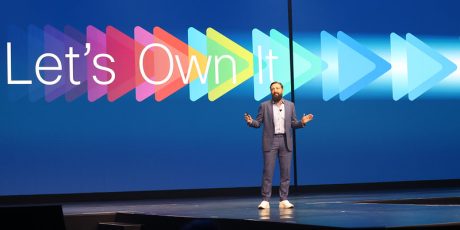 Partners
Drum roll please…
It's awards season (for the Cisco channel at least).
Cisco Partner Summit presents the perfect opportunity to celebrate our partner community. In the UK & Ireland we have an ecosystem of over 4,000 organisations who underpin the IT infrastructure of our nations.
I've worked with many of our partners for a number of years, but in the last few months I've been able to get to know many of them personally. The talent of our channel in the UK & Ireland astounds me. Whether they bring expertise across the entire Cisco portfolio or more specialist skills in particular technologies, the scale that they provide to support the needs of organisations across the UK & Ireland is unmatched. For that reason, I'm extremely proud to be announcing our UK & Ireland award winners in recognition of their efforts over the last year.
There are many on the roll call, and I'd like to share my congratulations with each and every one. However, the first mention must be given to our 'UK & Ireland Partner of the Year', CAE Technology Services. Not only are they our partner of the year, but CAE also received accolades for Security, Software and for our work together in the Public Sector.
Three other winners were awarded in multiple areas: Softcat, Computacenter and Natilik.
Here are our award winners:
UKI Partner of the Year – CAE Technology Services
Technology Excellence: Enterprise Networking & Meraki – CDW
Technology Excellence: Collaboration – Cinos
Technology Excellence: Cloud – Natilik
Technology Excellence: Security – CAE Technology Services
Software Partner of the Year – CAE Technology Services
Commercial Partner of the Year – Softcat Plc
Small Business Partner of the Year – Softcat Plc
Enterprise Partner of the Year – WWT EMEA UK Ltd
Public Sector Partner of the Year – CAE Technology Services
Customer Experience Partner of the Year – Virgin Media Business Ltd
Managed Services Partner of the Year – BT Group
Distributor of the Year – Ingram Micro UK
Social Impact Partner of the Year – Computacenter UK Ltd
Transformation/Innovation Partner of the Year – ITGL Ltd
Xtend Partner of the Year – Cohesity UK & Ireland
Cisco Capital Partner of the Year – Computacenter UK Ltd
SASE Partner of the Year – Natilik
API Innovation Partner of the Year – Focus Group
Find out more about our global and EMEA award winners – which you'll spot include some of our UK & Ireland partners too.

Tags: