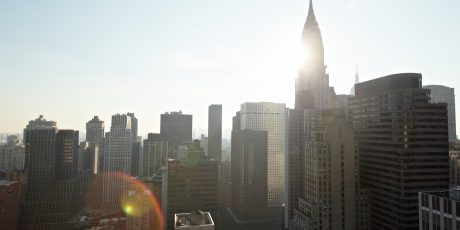 Small and Medium Business
Diary of a Digitally Disrupted Consumer: Top 5 New York Tech Trends In-Store Right Now
The great and the good of the retail world (35,000 in total) last week descended upon New York for 'Retail's Big Show' – the definitive global retail trade show focused on future trends and how to keep pace. As you would expect, technology plays a leading role in this event, as it inevitably does in every retailer's strategy as we move further towards a truly digital retail experience.
New York is a particularly appropriate location to consider emerging trends as it's also the city where major brands trial new formats, concepts and technologies, under the watchful gaze of the discerning local shopper. And NRF, the organisers of Retail's Big Show, are keen to showcase these, suggesting each year a 'store tour' for attendees looking to break out of the convention centre and see some of what they're hearing about in practice.
Having dutifully walked the length and breadth of Manhattan (with the blisters to prove it), here are my top 5 tech trends in-store that haven't yet made their way over the pond. They aren't necessarily the most high-tech, but really focus on improving the customer experience (and make it worth visiting an actual bricks and mortar store):
#5 – HD video displays in-store, in (almost) every store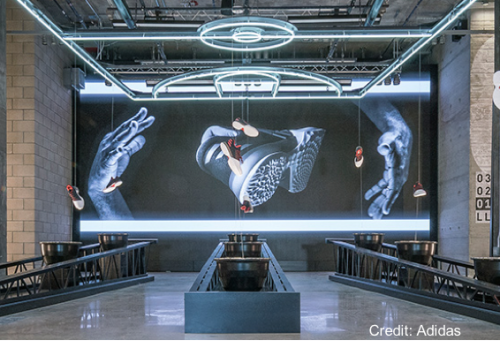 One of the first things that hits you as you browse the New York stores is the ubiquitous presence of HD video screens (NB: of course these are not exclusive to the big apple and are springing up worldwide – it's the sheer number and presence of them in New York that's striking). From video walls displaying catwalk fashion displays to panels in department stores concessions bringing the brand to life, New York stores are now a multi-sensory experience. And that experience is faultlessly integrated with brands' digital marketing, tying in digital advertising with the online and app UIs to make a visit to the store feel like an event in itself. It's the important foundation in setting the stage for a retail-tainment experience – the next big trend in bricks-and-mortar. When done well, this is how brands can overcome the hyper price sensitivity of online only shopping and develop the long-lasting, emotional connection that's essential for longevity.
#4 –Interactive digital displays to signpost the store and build community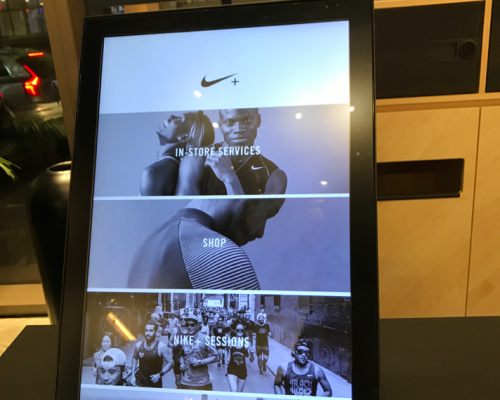 New York welcomed 12.7 international tourists in 2016 and 60.3 million in total. That's a huge volume of non-regular shoppers to navigate stores. And with over 200 languages spoken in New York and half of New Yorkers speaking a language other than English at home, it's fair to say that delivering an excellent in-store experience is a challenge. Large and specialist retailers have addressed this by installing prominent digital displays in-store which not only signpost the store in multiple languages, but act as an interactive brand ambassador, providing relevant information on the store and brand(s) on offer, as well as highlighting special offers and food and beverage outlets and encouraging social following and reviews as well as app downloads.
A global sports brand has taken this approach a stage further and uses its interactive digital displays to build out its own community, highlighting its programme of local sporting activities and offering tips on where to visit in the city, supported by its own app.
#3 – Using an app to check inventory and request right size to try on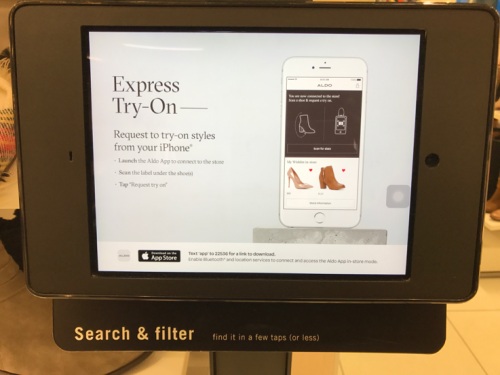 Shoe shopping is pretty inefficient. I think we all get why retailers can't put complete pairs out and that space limits sizes on display, but it can be painful to locate an assistant and have them disappear for 5 minutes looking for sizes out in the back, or request that someone squirrelled away in the depths does that and dispatches them to the shop floor. One retailer was promoting restricted (only available via a link sent via text) download of a app which allows shoppers to scan the barcode of an item to carry out their own stock check and request the right size to try on, cutting out the middle man and surely automating a routine part of the process where humans can add little value?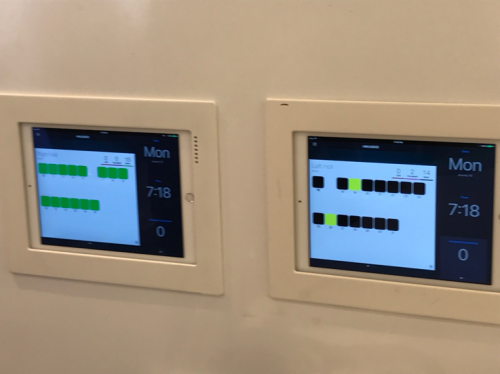 #2 – Heat maps and sensors in the changing rooms
One retailer is using a combination of sensors on the changing room doors and inside with a heat map to allow assistants to easily see which are free, minimising queues which can be a big problem at peak periods. This also allows assistants to more easily judge when a customer has been in the changing room for an unusually long period of time, potentially indicating someone needing help (or a security issue) AND keeping traffic flowing, surely a win-win?
#1 – Self-service tills in the changing room area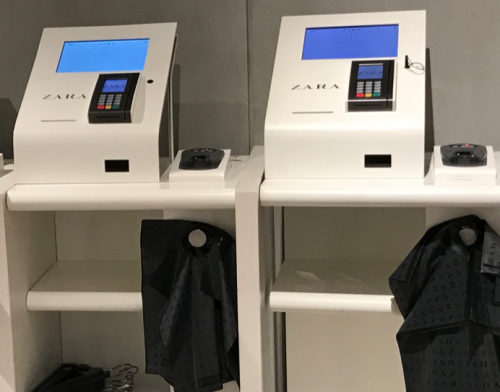 So, one of the great bugbears about shopping for many of us is queuing to try on clothes and then queuing to pay. In this example, a major fashion retailer has installed self-service tills in the changing room area. To me, this makes perfect sense – after trying on my items and deciding to buy, I can simply check out using my credit card, after which the (smart) station will allow me to release the security tag. For luxury brands this skips an important step of beautiful wrapping and packaging, but for fast fashion, it speeds up the whole process and I'm MUCH less likely to abandon my item when I see the length of the check-out queue.

This isn't a particularly high-tech solution (although technology is definitely the enabler), but it's a customer-focused one.

These are only a few of the tech trends on trial in New York stores right now; my list focuses very much on the mid-range, high-street stores where volume and scalability is the imperative, and of course where the technology in use is visible to the eye of a casual visitor. However, they do show how digital technology can be deployed to improve the customer, and the workforce, experience, and how small steps and a focus on the end user can deliver surprising benefits.

Next steps:

Tags: