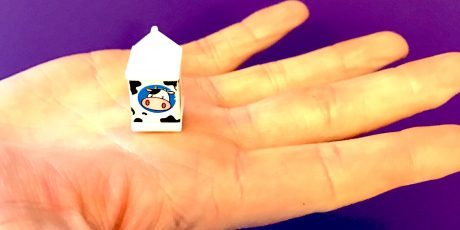 Small and Medium Business
Diary of a Digitally Disrupted Consumer: #Shrinkflation
Did you know British consumers are at war with the greedy brands that are surreptitiously shrinking our portions and packet sizes? If you didn't, you soon will, as consumer watchdogs across the media have made it their business to analyse the aisles, ready to pounce on any pejorative pricing practices. Shrinkflation is the tactic of the moment, and the odds are that an item on your shopping list is already affected…
A prime-time current affairs show on Channel 4 recently ran an expose of heinous grocery crimes ranging from 10 fish fingers in a packet (down from the original 8) to a whole 250g fewer frozen oven chips. So, is this another case of the faceless corporate giants squeezing the hapless consumer into submission? Should we be picking up our placards and pitching a picket line outside the UK's factories?
In a word, no. The widespread shrinkflation we're currently experiencing (as opposed to the standard 'cat and mouse' style tweaking) is brands' and retailers' defensive move against rising prices and economic uncertainty. Consumer goods manufacturers are battling on all fronts – currency fluctuations, inflated raw material costs and consumers who don't want to pay a penny more.
Which sector saw highest costs since the Brexit vote? The cost of manufacturing food and drink products has risen 4.3% over the past 12 months across all sectors, according to latest data from the Office for National Statistics (ONS). Food Manufacture, August 2016
But there's only so far that shrinkflation can mask the inevitable, before portions become truly Lilliputian in size. So what quick fix can consumer goods manufacturers consider to work some shrinkflation trickery on their own balance sheets? The answer may be refreshingly simple.
The UK ranks 5th in the world in business travel spend (which may seem surprising given our relatively diminutive size), and Food Processing and Services is the highest-spending sector, racking up $112.1 billion in 2015. That's a lot of airmiles, but makes sense given the nature of the business involves multiple sites over multiple locations and a significant amount of to-ing and fro-ing with major customers on product development and packaging.
Here are some of the critical ingredients to reducing travel and meeting costs in consumer goods manufacturing using collaboration technology:
Incorporate Video into Meetings: Meet face-to-face without geographical restraints other than time zones. Web conferencing keeps employees connected with each other, with customers and with suppliers and available to meet anytime from anywhere. Using HD video allows meaningful discussions on products, almost as though you were in the same room (and even allows for faster resolution of machine issues on the factory floor).
Enable Meetings with Remote Attendees: Let people connect in real time at their convenience. WebEx and collaboration tools allow people to connect using their own devices with high-quality audio, video, and content sharing.
Use Virtual Team Spaces: Don't let the meeting – and the team working – end when the conference call does. Applications such as Cisco Spark can allow you to keep track of, and continue, ideas and conversations, allowing secure collaboration beyond the walls of one site or organisation.
Deliver Online Events and Training: Replace in-person sessions with compelling online learning experiences, for example product training or health and safety briefings, that support remote attendance. Instead of having to travel to sit in a classroom, let people access classes when it's convenient. Help everyone to stay productive and engaged.
Next steps:

Tags: