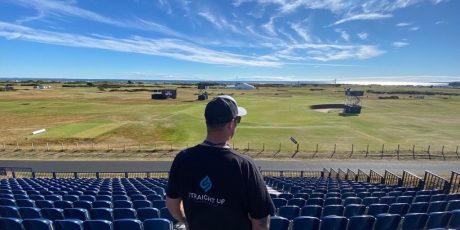 Cisco UKI
Developing the Workforce of Tomorrow, Today at The Open Championship
A guest blog from Straight Up Technologies 
In today's rapidly evolving technological landscape, it has become essential for companies to invest in building a workforce that can meet the demands of tomorrow, today. Straight Up Technologies (SUT), a leading agency in the event IT industry, has taken significant steps forward in this direction by launching an innovative program called Straight Up Technologies University (SUTU).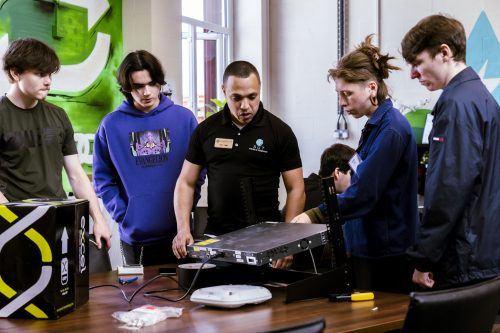 By introducing event IT training at an early stage, offering hands-on experience, and forging valuable partnerships, we are paving the way for a new generation of tech professionals. Our efforts will not only benefit the individuals involved but also contribute to the growth and innovation of the event IT industry as a whole. As we continue to push boundaries and challenge the status quo, we are setting the standard for workforce development in the event IT industry.
Last month, SUTU, Merseyside Community Training (MyMCT) , and Cisco joined forces to deliver an exclusive workshop focused on event IT training in the UK. This workshop was designed to provide participants with hands-on experience and in-depth real world training in various topics, including event network essentials, switching and routing, and Layer 1 infrastructure fundamentals. By collaborating with industry professionals and like-minded IT career seekers, participants gained valuable networking opportunities and acquired real-world experience that will prove invaluable in their future careers. This training is unique in that it takes a student through the entire lifecycle of learning and implementation in a classroom setting to then applying that knowledge at an event site in a condensed experiential learning environment, such as the many large temporary network deployments we do for a number of different events each year including our flagship event – The Open Championship – taking place this year at the Royal Liverpool Golf Course.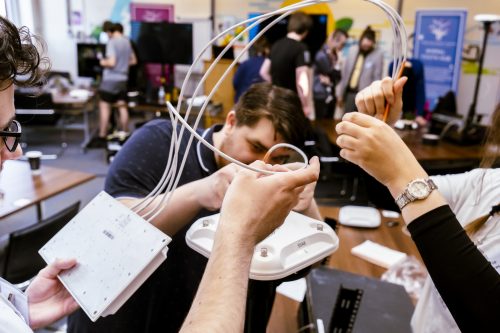 For the past 14 years, SUT has been the network partner architecting, deploying, and managing The Open Championship, one of the most prestigious golf tournaments in the world. For the past 6 years, we've included Cisco Networking Academy (NetAcad) students from all over the UK as a part of the SUT team on-site at The Open. The NetAcad partnership between Cisco and SUT began successfully in 2017 and has delivered 30+ students with on-site experience preparing them for their futures through this incredible collaboration.
The Open Championship is now the largest and longest temporary deployment of network technology in the World of Golf. The installation and support of over 650 Cisco access points, 300 managed switches, and 200 IP phones covering 90+ acres of indoor and outdoor space spans over 6 months. We have provided IP telephony, course-wide wireless connectivity, network security, and support of all patron services such as scoring, concessions, and on-premises content streaming. Over the 14 years of our relationship with the R&A, we've been to every course on the circuit which has given us deep insight into the unique challenges of The Open. Our team has the experience and the knowledge to support a world class championship year after year.
Due to the incredible complexities and sheer size of The Open, Straight Up Technologies recognizes the importance of introducing event IT training at an earlier stage in the learning process to equip students with the necessary skills to make a significant impact as they enter the real world of temporary environments and beyond. We selected a few of the top-performing participants from our pilot workshop with MyMCT to join our esteemed team, offering them a three-week paid placement as Event Technical Assistants at this year's Open Golf Championship. As we just launched the pilot program this year, this new exciting opportunity allows these talented individuals to assist in the deployment of a fast and secure network to tens of thousands of people, providing them a firsthand experience in a high-pressure event environment. To date, we've included 25 people in our first ever workshop with MyMCT. The workshop and subsequent on-site event team placement are not just about imparting knowledge; they are part of SUTU's broader vision of creating pathways for driven and bright minds looking for opportunities to thrive in the event technology space.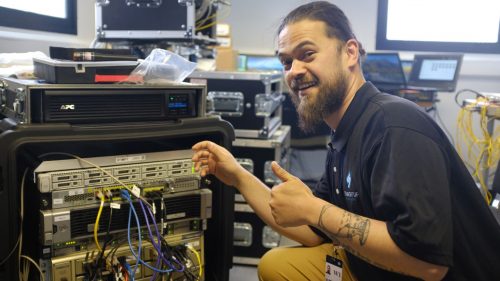 Traditionally, event IT training has been conducted in live environments and required mentorship from experienced professionals. Hands-on-training would take days to complete before entry level tasks were learned by our apprentices. However, we are revolutionizing this approach by bringing real-world scenarios into the classroom environment. Through our partnership with Cisco and the Cisco Networking Academy programme, we are bridging the gap between academia and industry, ensuring that students and innovators receive the training and exposure needed to excel in this niche field. These collaborations have allowed SUT to tap into a wealth of resources and expertise, enabling us to effectively build the next generation of tech professionals.
As Straight Up Technologies continues to pioneer innovative approaches to workforce development, our efforts are set to make a lasting impact on the event IT industry. By investing in young talent, providing comprehensive training, and fostering partnerships, we are actively helping to shape the workforce of tomorrow, today. Through our initiatives, we are creating a pathway for aspiring individuals to broaden their career horizons and achieve remarkable success in this ever-evolving industry.