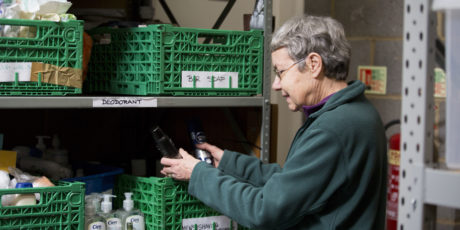 Partners
Data, automation and people – combining compassion with digital to support the nation's food banks
How we're using our technology to support the Trussell Trust's vital day-to-day work, help examine why food bank usage is mounting and explore how this worrying trend can be addressed.
Food for thought
The UK is one of the world's wealthiest nations, yet more than 14 million people live in poverty. 4.5 million of those affected are children, with parents often going hungry to feed their young. Little wonder that reliance on food banks is growing.
It can be tempting to ignore or deny the extent of this troubling national issue or assume it's something that affects other people. But just one change in circumstances can potentially lead to a rapid descent into poverty: job loss, illness, injury, disability, family breakdown or leaving the care system.
Over the past five years, the Trussell Trust has seen use of its centres grow by 73%. During the previous financial year, it distributed 1.6 million three-day emergency food supplies; more than 0.5 million went to children. That's a 19% increase on the previous year.
In the time since we announced our partnership with the charity, many Cisco staff members have volunteered at food banks up and down the country, and as you'll see from the video, it's great to see what a caring, compassionate team we have.
But I felt sure we could do even more. I wanted to find out whether Trussell Trust could use our technology capabilities in their fight against hunger and poverty.
And that's how our partnership began.
Byte 4 Bite
The Trussell Trust's 420 parent food banks and 1,300+ centres are supported by 40,000 volunteers throughout the UK, who also manage donations, organise collections and offer practical support such as financial advice.
Over the past months, we've helped digitally transform the organisation's logistics and operations and offer technical guidance in areas including GDPR, cybersecurity, networking infrastructure and collaboration. We also have several important short, medium and long-term goals:
Short-term: giving people quicker access to emergency food supplies
Medium-term: enabling volunteers spend more time supporting food bank users through improved access to training and resources
Longer-term: using data to address the many complex issues contributing to hunger and poverty, plus qualitative research to help tackle their root causes.
Harnessing data to tackle hunger
Data is incredibly powerful tool for any organisation – but many fail to take advantage of it because they don't know where to start.
To achieve our longer-term aspirations for the Trussell Trust, we're working to create "a single view" of all data related to its services, irrespective of format, how it was generated or who generates it. It will also incorporate data from other food banks and the insights gathered shared with the Trussell Trust and other poverty-related charities. In addition, food bank data will be aggregated with other poverty-related information to start building a clearer picture of its underlying causes.
We're also looking to connect food banks to each other digitally and create automated links with food retailers, to potentially access their surplus stocks.
And it doesn't stop there. With food bank usage believed to be rising around the world, another longer-term goal is to share our results with Cisco locations across the globe to help other countries address this issue.
A force to end global hunger
Nobody should be destitute or hungry. More often than not, living in poverty is down to bad luck and life events that could affect almost any of us.

In a wealthy economy like ours, everyone deserves access to the basics at the very least. In fact, I would argue that we all deserve the opportunity to thrive.

It's impossible to make this happen overnight, but by working together and maximising the use of digital and data combined with hunger-related research, we can make progress on the challenging journey to ending hunger in the UK.

Our food banks do an incredible job for millions of people every year, but it would be incredible if they would no longer be needed.

Tags: