Cisco UKI
Cyber security sales by day – cyber crime fighting by night!
Here at Cisco staff are able to give back to the community by donating their time to various volunteer activities – I was lucky enough to have a manager at the time who was happy to sponsor me internally to make a difference by supporting my local police force.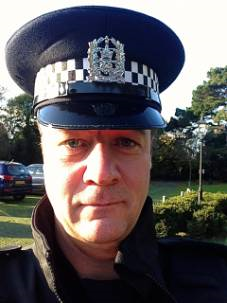 That was almost 4 years ago now. When I think through my activities as a Response and Patrol Officer over the years, the whole experience and the situations I find myself in, i believe Cisco gets a better version of me back as a result. This pilot is a great opportunity to also use the skills, training and intelligence I've accrued over the past 9 years at Cisco in my professional career in Data Centre and more recently the cyber security arena, to enhance my role as a Special Constable.
I first became aware of Cisco's progressive giving back policy in 2010 through work helping the local community with renovation projects. I'd often thought about becoming a police officer while at school, but the lure of sales commission drew me away into various other roles!
In 2011 a friend in the force suggested that I should give it a go, it seems that it wasn't too late after all. I discussed the move at length with my family, after all the training programme alone was extensive. It involved many evenings and weekends covering all aspects of basic policing protocol, dealing with the public, legal training, police IT systems, radio protocol and police procedures to name just a few of the classroom based trainings which I would be instructed and then examined on – and even this was only if I could successfully pass stage 1 made up of medical and fitness tests, interviews and vetting procedures.
With the backing of my family I jumped in with both feet and on my induction day found that I was the oldest in the training room by about 10 years !!!
The final stage of my training would build on my knowledge base but had more of the practical aspects of policing like 'Personal Safety' training, including the use of 'Personal Protection Equipment', practical use of radio and not forgetting an intense 'Emergency First Aid course'. All accompanied with examinations for each module and whilst joining my shift team as an observer on 10 hour shifts, making it quite a commitment!!!!
So here I am, having successfully completed police college in July 2014 I was awarded my warrant card in August. In 2015 gave back 254 volunteer hours with Cisco's support.
I'm now involved in a new pilot project involving specialist volunteers helping Hampshire Constabulary to increase its skills in preventing and solving cyber-crimes. Meaning I get to apply my cyber-security skills from work to a new Cyber Special Constable and Cyber Volunteer Programme. Researchers, students and serving police staff work together to solve crimes while supporting students' learning and career ambitions (you can read more about the project from the BBC here).
Through this new pilot my skills can be directly applied to my area of expertise, cyber-crime. We're starting to better understand the scale and scope of cyber-crime nationally and locally and the Office of National Statistics estimated in a field trial last year that there were 2.5 million incidents of crime falling under the Computer Misuse Act, the most common incident being where the victim's computer or other internet enabled device was infected by a virus. This number also included incidents where the respondent's email or social media accounts had been hacked.
The way I view the situation is that whether I am walking the streets, in a patrol car, or helping form this unit, it all leads to one common denominator and that is minimizing the impact of and the prevention of crime, on line or offline, real-world or cyber-world, leading to less individual victims of crime as a whole and that UK Plc. will be better off!
You can read some more information about the pilot below, or in a recent BBC report here. In the meantime we'll keep on doing our best to keep on the front foot with cyber-crime.
——————————————————
Background
The Digital Investigation and Intelligence Programme (DII) seeks to develop capabilities for policing in the digital age.
In July 2013 a strategy was created, including the objective to introduce, under a dedicated Specials Chief Officer, work streams to integrate Special Constables and Police Volunteers into the DII framework.
This pilot creates the Cyber Special Constable and Cyber Volunteer Programme (CSCV).
Purpose
The CSCV pilot aims to make best use of the wide range of skills and abilities possessed by digital industry practitioners and attract, recruit and integrate their skills to support police digital investigations by providing technical expertise to support force cyber/digital teams.
It is anticipated that this will provide police forces with greater expertise, experience capacity and capability to respond to the cyber threat and digital investigations and on successful completion of the pilot it will be rolled out across police forces UK wide.
Tags: