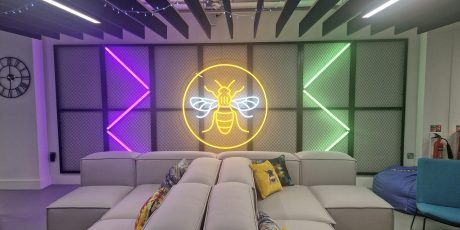 Public Sector
Creating a Cyber-Savvy Digital City Region
Call it ambition, leadership or perhaps attribute it to there being something in the water, but there is something about Manchester. It draws in talent, investment and innovation, and it's what underpins the region's digital ambition. That ambition will see Greater Manchester become a world-leading digital city region.
As we build on the commitment that we made last year to help deliver the Greater Manchester One Network initiative, we're delighted to today be announcing that we are joining the Greater Manchester Digital Security Hub (DiSH). We'll be working with the founding partners of the centre to support their ambitions to be at the forefront of cybersecurity and innovation, support economic growth and resilience, and to help make the region a trusted and secure place to live, study, and work.
As part of this collaboration, through Cisco's Country Digital Acceleration (CDA) programme, we are launching a series of targeted initiatives to tackle the widening cybersecurity skills gap. Dedicated programmes will focus on three key areas: the most vulnerable organisations, the widest gap in the industry, and the future generation who will live and work in the region as it realises its digital ambitions.
The Most Vulnerable Organisations
According to Cisco research, half of small businesses (50%) are underprepared when it comes to cybersecurity, leaving them vulnerable to breaches. A core ambition of DiSH is to future-proof Greater Manchester and bring together industry, start-ups, and small and medium-sized enterprises to develop solutions with real-world application that will enhance public and private cyber resilience and digital security.
As part of its role with DiSH, the centre will become a Cisco Networking Academy specifically to support small businesses with their cybersecurity skills. The programme will include a range of learning opportunities starting with a free, self-paced, mobile-friendly 'Introduction to Cybersecurity' course. The aim of the course is to equip learners with a basic awareness of cyber vulnerabilities and an understanding of the core principles of cyber resilience. Once users have completed the course, they will have access to additional learning pathways facilitated by Cisco's partnership with UCEN Manchester.
Jon Lomas, Cybersecurity Partnership Development Manager, DiSH commented: "We greatly value the opportunity to partner with Cisco, a global leader in cybersecurity, to help deliver the critical skills needed to protect businesses of all sizes from potential attacks in an increasingly complicated threat landscape. Becoming a Cisco Networking Academy will help us to deliver free and easily accessible training for our local business population to help them address the security risks they face."
The Widest Gap in the Industry
As cybersecurity threats continue to rise, the need for a skilled, diverse cyber workforce is more important than ever. Yet, the global cybersecurity workforce was reportedly short of 3.5 million workers in 2021 and constituted less than 25% women.
Cisco's latest programme, launched today in partnership with the Open University, 'Cisco Cyber Camps', will provide free, remote, self-paced training for students in the UK, aged 13-19, who identify as female or non-binary. The courses will allow young women to learn industry-ready cybersecurity skills, while also engaging in forums hosted by Cisco Networking Academy expert women instructors, attending online webinars, and embarking on soft skills training. Upon successful completion of the course, students will receive a certification that will then allow them to go on to complete advanced cybersecurity qualifications and courses.
There will be four enrolment dates each year in January, April, July, and October. To find out more, or sign up for the next cohort, visit here.
Andrew Smith, Senior Lecturer in Networking, Open University Cisco Academy Support Centre, said: "The rapid expansion of the digital economy has created many more cybersecurity challenges that need to be tackled by organisations daily. We urgently need to close the security skills gap, as job vacancies continue to outweigh available expert talent. We look forward to our continued collaboration with Cisco to support the training of talented women to fulfil these critical roles and boost innovation through gender diversity."
The Future Generation who Will Live and Work in the Digital City-region
Cisco's partnerships with the Open University and UCEN Manchester have been designed to equip young people with the cybersecurity skills needed to help Greater Manchester succeed in its ambitions to become an internationally recognised digital city-region, attracting industry investment, connecting communities, and driving the local economy. The partnerships focus on providing:
Free, self-paced, and online instructor training programmes, led by a consortium of Cisco Networking Academy partners including the Open University and UCEN Manchester, which work around teachers' busy schedules, as an exciting opportunity to upskill and support their continuing professional development.
Industry-accredited materials and resources designed for those delivering cybersecurity training to their students, closely mapped to the T-Level curriculum. Aligning the courses with classroom teaching offers students in Greater Manchester vendor-led training that will enhance their future job applications.
Teacher training and skills-to-jobs learning for pupils in the Dean Trust schools and academies across the Greater Manchester region, as well as further schools supported by UCEN Manchester.
Our Chief Executive in the UK & Ireland, David Meads, commented: "As Greater Manchester realises its digital ambition, it's crucial that we equip everyone who lives and works in the region with the awareness, tools, and skills to help improve their security resilience. We're delighted to be working with DiSH, and its founding partners to do just that."

Tags: