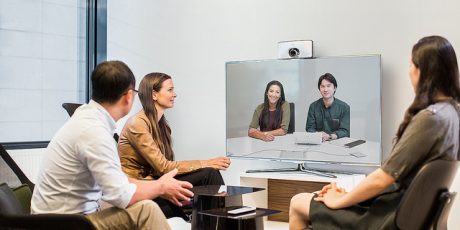 Start-up Hub
Cisco Start-up Hub Problem Page: How can I make the most of a remote team setup?
Whether working from home or another continent entirely, modern employees are spending less time clocking in at the office.
Flexible working arrangements have become part of the fabric of everyday life, and start-ups have been particularly prone proponents of the setup.
But having team members working remotely can present its own challenges.
We chatted with Amy Lai of Wittos, an IDEALondon alumnus, and current IDEALondon resident Jeff Kofman of Trint, who know better than most how to make working remotely work for you…
What are some of the upsides to having a remote team?
Amy Lai, Wittos: We have a remote team across Europe. For us it's about work flexibility and drawing from a diversity of experiences.
It also gives us an ability to extend the coverage of where we operate since we're already internationally focused. Because of this, much of our work actually happens to be outside the UK.
Jeff Kofman, Trint: The upside of having some of your team remote is that you have a broader talent pool to draw from.
We're based in London – it's a big and expensive city and some people don't necessarily want to live there. By allowing some of your workforce to work remotely it means that you have access to some people who otherwise just wouldn't be available.
We don't do it to save money, but if that was your main aim then – depending on where you go – you can save a huge amount of money by employing remote workers. You can pay them a decent living wage, a competitive wage, that might be a third of the cost of what you'd pay here in London.
And the downsides?
Jeff: There is a downside when it comes to the immediacy of communication – the kind of water cooler chat that is part of the office environment that can be very productive. As more and more of the communication happens in the office in London across the desk, the challenge is to make sure the remote team doesn't feel excluded.
Amy: While remote teams mean you can have broad coverage, that can stretch you – especially when you're taking calls across several time zones!
Jeff: There's an important funding aspect too: we've found that investors are very wary of fully dispersed teams. A lot of the money in our early rounds came in on a condition that we use it to hire in London. This was one of the issues investors were very, very strong on – almost without exception.
How can you develop a company culture when face-to-face time is limited?
Jeff: One of the things that we've introduced that has been very successful is what we call 'meet-ups'.
Every eight weeks or so we bring the remote team into London, we get an AirBnB, and they come in from Sunday night to Friday afternoon – a full week.
Sometimes the meet-ups are heavily scheduled with planning meetings, but sometimes it's just a chance for the remote team to sit at a desk next to the people they're collaborating with here in London, to simply talk and to share and to look at each other's computers.
We always plan a social night; we'll do some fun stuff, like ping pong, or bowling or puzzle rooms.
It's good fun, and part of the value of it is that we want the people who are remote to feel very much part of the team – and for new people joining in London to get to know them too.
Amy: Today the bonding and emotions you get with co-locating can be experienced with a remote team.
When we do get together face-to-face, it's often times around customer-facing activity. Typically it's a totally intense period of working, eating out and socialising together. But it's also the intensity of those shared moments that helps us understand each other better and guides our direction.
In a start-up, each team member typically has more than one role. It's the job of everyone to maintain team relationships.
What about the technical challenges involved with working in different spaces and places?
Amy: We use a range of collaboration technologies. Being able to easily search or replay something helps to keep us in sync.
There are a lot of tools and we've tried a tonne of them. What we've learned is that adoption has to be aligned with how we work, and what sticks comes from ease of use and developing a natural dependency.
Thanks to working with Cisco we engage a lot in chat, voice and video sessions on WebEx and Spark. They're also familiar for our enterprise customers so it's become second nature for us to use externally as well as internally.
Jeff: In terms of staying connected – in our wireless world it's really easy actually.
You do need to have people who you genuinely trust will be self-starting, self-motivating, self-directing. I think that's essential.
—
So there's plenty of appeal to remote working – particularly for start-ups that value the flexibility and money-saving possibilities it offers, not to mention the opportunity to secure the best talent.
The challenges are manageable too, with relatively simple solutions like team get-togethers and plenty of communication working well.
Ultimately though, it's a question of what works best for you and your business – and how you can serve needs of your customers and investors.
***
Do you know someone who would benefit from this content? Feel free to share with your social networks and help us spread the word.

If there's a topic area you'd like us to cover in more detail, or if you have a question you'd like to ask, please let us know in the comments below or drop us a line at startupsupport@external.cisco.com

Tags: