Cisco UKI
BIG Awards Finalist: Powering the Internet of Things with EMD
Ahead of the BIG Awards Final on Thursday 22 October, we caught up with the finalists to get to know them a little better. Covering the business stuff all the way through to some more personal details, we're bringing you a series of blogs profiling each. Watch this space for more over the next few days…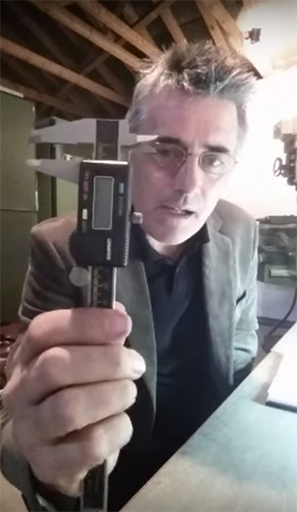 "We didn't find the Internet of Things, it found us," explains Geoff Haswell, the inventor of EMD's energy harvesting applications. "We realised that there was massive potential in working out how to harvest energy to power all these sensors and devices."
As one of our finalists of the Cisco BIG Awards, Geoff is in the process of taking his product to market, offering a range of applications in harvesting energy to power small devices, through to the data transfer associated with these devices.
We caught up with Geoff from his workshop in Sheffield ahead of the awards to talk about the challenges he has overcome, his inspirations and predictions for the future.
"A couple of years ago we were thinking about all those connected devices and sensors out there, often powered by a coin cell battery. A lot of these are either in remote places or just have awkward access," explains Geoff.
"If we could harvest energy from movement, heat or light to power even a small percentage of these, we knew we were on to something."
Geoff says that a big challenge was just making the technology work sufficiently well in the first place. Since the energy requirement for devices is quite high (just think about how your smartphone sucks power), the amount that can be harvested doesn't always match or exceed what is required.
"Imagine a conveyor belt on a production line, which has rotating wheels constantly turning. We can harvest that energy, but we need a little left over for a radio frequency transmission to send data about the status of the belt to a central server," he says. "Technically it's challenging, but we've worked hard to find a solution to the problem."
According to Geoff, the potential for harvesting energy for powering IoT-enabled devices is enormous today, let alone tomorrow. "How many zeros will be on the end of the number of connected devices that we'll be managing in 20 years?
"It's going to be huge number; we all expect exponential growth," he continues. "We have bold ambitions. We want to be a major supplier of energy harvesting technologies."
We asked Geoff who inspires him in business: "Well I could give the usual answer and say someone like Richard Branson, but my inspiration has been my Dad, who gave me a grounding and passion for engineering," he replies.
As Geoff says, engineering is in the blood. "We had a family engineering business making tools and components which I started out at. That gave me my initial interest in engineering and planted the seed of working for myself."
When asked about inspirations in the engineering world, Geoff cites English mechanical and civil engineer, Isambard Kingdom Brunel, one of the greats of the industrial revolution. "It's not just about what he produced, such as railways, bridges and tunnels, but the speed he did it and how he got other people involved," he explains.
Favourite technology today? "That's easy," says Geoff. "It's my smartphone. They're works of art. Think of the requirements of the original mobile phones. They did what they were supposed to do: made phone calls on the move.
"The smartphone was such a giant leap forward and created a platform for all kinds of social and technological innovations. And technically what is packed into such a small thing is astonishing."
When looking to technology innovations of the future, Geoff points to the healthcare industry, which he says will impact our lives more completely and more discretely than today.
"Just take something like blood condition monitoring and how technology could help in the near future. Being able to enable patients to take blood pressure readings, for example, and send those to clinicians to monitor their health and intervene before a problem exists rather than afterwards offers enormous benefits. Initially it'll be of benefit to those who really need it, but eventually it'll be something that everyone does."
How about combining getting an IoT start-up off the ground with home life?
"I've got a big family but working as an entrepreneur really suits my work-life balance. You don't expect to work a 9-5 and I often work into the evenings. But on the flipside, I live close to where I work and have the flexibility to be able to do things like take my young boy to school."
Outside of his life as an entrepreneurial engineer, Geoff is a martial arts fan. "I'm just getting back in to Tae Kwon Do after a layoff from injury. I'm also keen to get into Katana, as I've always had a yearning for trying it and love taking on new things."
For EMD, Geoff is optimistic about the future and says that the Cisco BIG Awards have played their part in his success so far.
"Our discussions with Steven Goodman, the Chief Technology Officer for Industry and Infrastructure systems at Cisco, have been particularly useful to us. He's kept us grounded and gives really practical advice.
"Being involved with the BIG Awards offers us an additional huge potential; after all we're a small company competing on a big stage," adds Geoff. "The IoT market can be likened to a swinging hockey stick. There's a long period of slow growth, then a short period of very fast growth. We want to be ready for that when that happens."
Best of luck to Geoff and all of our Cisco BIG finalists, who will be battling it out in our grand finale on October 22nd. Watch EMD's video submission the Cisco BIG Finals below:
Do you believe EMD has what it takes to win at this year's BIG Awards? You can cast your vote for the "People's Choice" award category, so why not vote for them on Twitter or Facebook. Voting closes at midnight on the 21st October!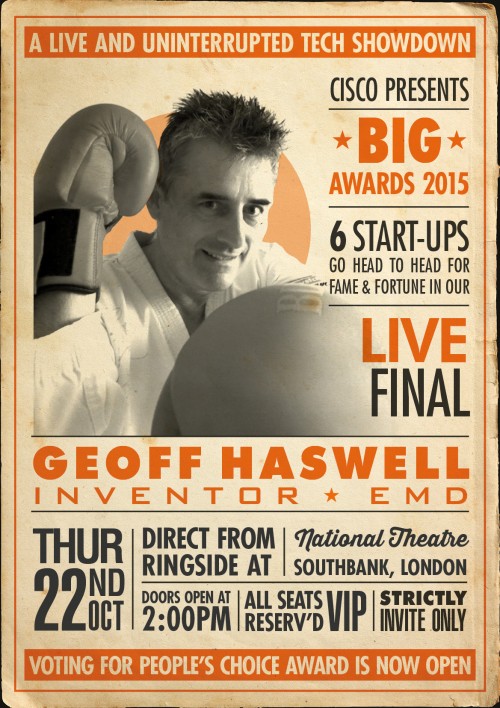 Tags: