Cisco UKI
BIG Awards Finalist: Transforming building access with Ingress One
Ahead of the BIG Awards Final on Thursday 22 October, we caught up with the finalists to get to know them a little better. Covering the business stuff all the way through to some more personal details, we're bringing you a series of blogs profiling each. Catch-up on the series so far, and look for more over the next few days…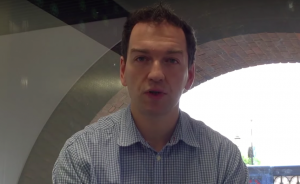 "There has been no real innovation in this space in the last 20 years," says Phil Woodward, CEO of Ingress One.
The BIG Awards finalist has his eyes fixed on transforming the way you and I get in and out of buildings. It's a relatively routine task, but Phil believes it's ripe for disruption and it could yield some pretty big benefits.
"You would probably think this is quite a boring area," Phil says. "But many companies are still using books. There are some complex access systems, but there's been no modern software innovation.
"We're a Software-as-a-Service (SaaS) business. This means we're not just innovating in terms of product, but also in terms of business model."
The idea is to create a much enhanced experience for visitors, while delivering cost savings for businesses and seriously tightening up building security.
"At the moment it's very much 'pseudo security'," Phil explains. "At the front desk you could give any name and get a badge. With our system we authenticate you on a single platform and we know you are who you say you are.
"I thought: I have an app for taxis, for boarding passes, and for making payments. Why don't I have an app for building entry?
"Our goal is in our name, we want to be the one method of ingress globally. We want to scale up over the next two years and ideally we want to get into thousands of locations."
It's been a busy few months for the start-up's team of five. As well as being named one of the six finalists in Cisco's BIG Awards, Ingress One has just moved into an accelerator in London. It felt like a good time to reflect on Phil's journey so far.
Speaking candidly, the 36-year-old dad-of-three said he's wanted to run his own business "pretty much since school".
After studying Physics at Oxford he spent a couple of months doing some IT outsourcing with a friend, before trying his hand at growing the manufacturing and sales side of a fashion business.
"It wasn't my business though, so I went away to get some experience and became a strategy consultant. Five years ago I left that, and started my own web business."
Despite raising a "couple of rounds" of funding, the business folded. However, it was this experience of failure that Phil believes gave him a fresh perspective about what business success looks like when he started Ingress One last year. He's also able to draw on inspiration from sources quite close to home.
"My wife is my biggest inspiration, she's the most senior women in her industry.
"I also look at people who have toiled away on a start-up for a long time, and then they become an overnight success in their eighth year. It's about realising it can take a lot longer than you think."
Outside of the 'enforced balance' between work and family life, Phil also finds what time he can to keep fit, running in his native Harrow and visiting the local gym. At the moment, he's hoping his workout is on the verge of getting even more high tech.
"I've always been an early adopter – I tend to buy kit quite early on.
"I funded a smartwatch on Indiegogo in December 2013. It's designed to detect the types of exercises you're doing in the gym, but I haven't received it yet. I'm hoping it will be my new favourite piece of technology."
As we chat technology, past, present and future, there's a boyish enthusiasm, combined with a great degree of care and thoughtfulness with each of his answers.
The three technologies he wants to see in the future? Nuclear fusion, a space elevator, and Hyperloop – all potentially realistic in our lifetimes.
"Fusion would be an enabler for everything else. It's a whole different level of engineering.
"Which inventor would I most like to have a cup of tea with? It would have to be Isambard Kingdom Brunel.
"It was innovation in a totally different era. He was quite a successful businessperson as well as an inventor.
"I'd want to understand how he organised all the different projects he managed, and how he scaled up before all these different modern management techniques."
Phil refocuses his attention to the BIG Awards finals on October 22, and he's raring to go.
"So far the biggest impact for us has been validation. To go through a competitive process with other businesses, helps give validation to the long term potential of the business.
"Any opportunity to work with Cisco directly was one of the key reasons for applying.  Having the big names next to yours really helps build up that early stage momentum."
Best of luck to Phil and all our Cisco BIG finalists who will be battling it out in our grand finale on October 22nd. Watch Ingress One's video submission the Cisco BIG Finals below.
Do you believe Ingress One has what it takes to win at this year's BIG Awards? You can cast your vote for the "People's Choice" award category, so why not vote for them on Twitter or Facebook. Voting closes at midnight on the 21st October!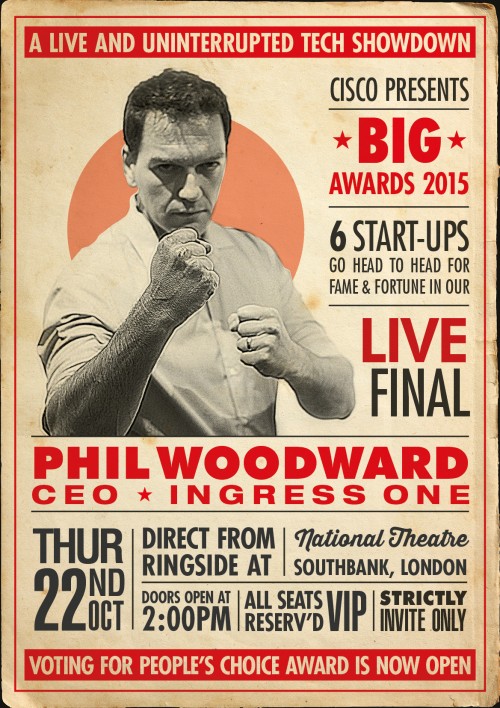 Tags: