Public Sector
Academic research in a pandemic: Using technology to ensure we leave no one behind
Universities across the UK have faced a huge challenge over the last year. The pandemic has reshaped fundamental parts of university life, from academic collaboration to the campus experience.
We're sharing stories from university students, researchers and leaders – to explore how they've continued their learning and research in the face of unprecedented restrictions.
We'll also look at the potential of technology to reshape campus life and university success in the future.
In this blog, Francisca Mutapi, Professor of Global Health Infection and Immunity at the University of Edinburgh, shares her experiences of collaborating with colleagues in Zimbabwe to tackle COVID-19 – and how digital tools have helped to keep essential research going.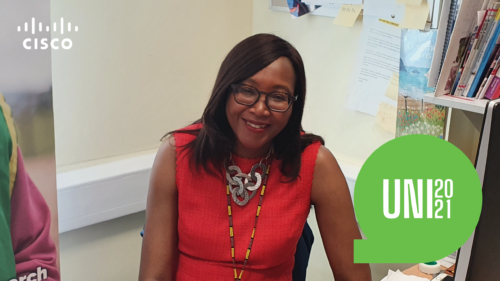 Delivering essential global health research
At the University of Edinburgh, I am the Deputy Director of the progressive model partnership, the Tackling Infections to Benefit of Africa (TIBA) Partnership, represented in nine African countries.
TIBA is an Africa-led research programme improving the management of infectious diseases and epidemics in Africa. We are funded by the UK National Institute for Health Research using UK AID.
The strength of TIBA is that our partners in Africa and the UK are leading scientists who have built trusted partnerships with their local ministries of health and the affected communities. We can use our collective expertise to conduct transformative world-class research of national relevance.
Coordinating an international team
When the COVID-19 pandemic reached Africa in March 2020, I co-led studies with TIBA Zimbabwe to conduct research requested by the Government of Zimbabwe (GoZ) to strengthen its response to the disease.
We focused on identifying patient-facing health workers, assessing their COVID-19 knowledge, attitudes to testing and infection prevention and control practices, and finally determining their COVID-19 infection and exposure history.
In May 2020 when we started this work, both the UK and Zimbabwe were under national lockdowns with severe restrictions on travel and person-to-person contact. We needed to quickly adapt our working practises to comply with national COVID-19 prevention guidelines in both countries.
While I led the conceptualisation of the research and applied for the funding, I could not join the team for the work. In some ways, this was not an issue as our team in Zimbabwe had all the expertise and experience to undertake the research.
Nonetheless, we did need to coordinate operations through activities like project preparation, participant recruitment, data and sample collection, and laboratory work. Normally, all this happens in-person, so it was important to find new solutions to unify the teams in both locations.
Technology helped us bridge the operational gap
First, we needed cheap, reliable and immediate ways of communicating. We managed this by setting up communication groups through free apps, such as WhatsApp and Telegram.
For assessing the participants, disseminating project information, results, project meetings and seminars, we used videoconferencing platforms – which was the first time we had done this.
The next adaptation was the use of android devices for obtaining participant consent and collecting questionnaire and demographic data, to adhere to social distancing guidelines.
Anonymised questionnaire data collected from participants was linked to samples for COVID-19 serological studies and infection diagnosis. The data captured electronically using the Open Data Kit (ODK) software was shared with team members for analysis.
With these adaptations, we were able to conduct the research and gather the scientific evidence which we reported to the GoZ in a policy brief. The GoZ used our findings to refine and optimise PPE provision to health workers.
This is just one example of TIBA's work during the pandemic; all our partner countries were conducting work on infectious diseases, with most supporting national COVID-19 responses. Their research ranged from serological surveys to real-time sequencing of circulating SAS-CoV-2 viruses.
It was critical that we could rely on trustworthy, world class technology, as ultimately people's lives depended on the work we did.
Things that even technology could not solve
The technology served us well, making some processes such as the community engagement more efficient.
However, the most challenging aspect was the lack of human interaction that underpins the collegiate working ethos and practice of research.
We needed the human interaction for brainstorming and instantaneous exchange of ideas. This could not be replicated with technology, especially as we were operating in different time zones and communication platforms were not always reliable.
In addition, our research programmes always include mentoring and training the next generation. This was limited by the social distancing requirements and movement restrictions, which constrained access to laboratories and we did not have technological solutions that could fill the gap.
Lessons learned and moving forward together
In TIBA we have a special work stream for lesson learning and sharing best practices across partners.
We've shared the technologies we have found useful across the partnerships, such as android data collection devices, apps for use in remote areas and real-time sequencing devices. Online meeting platforms have likewise allowed us to maintain our seminar and training series.
We will continue to use these technologies and practices post-COVID-19, as we adapt to a hybrid-working model. The experience has also indicated areas that need improvement, such as digital diagnostics and modular laboratories.
In TIBA we have a saying, in all our work we must ensure we leave no one behind. Technology has helped us to achieve this throughout the pandemic.
Learn more about how technology is setting up the world of higher education for success in the future.