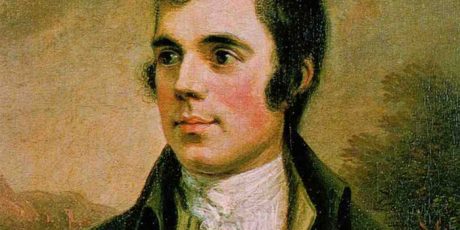 Cisco UKI
A techie poem to celebrate Burns Night
Happy Burns Night! Today marks the birthday of Scotland's most famous poet: Roberts Burns.
As well as munching our way through haggis, 'neeps, and tatties, we wanted to celebrate with a literary work of our own.
As well as the poetry of Rabbie, Scotland is of course famed for the advances in medicine, engineering and science it gave to the world.
Can you imagine modern life without the likes of television, penicillin or even the flushing toilet?
To mark the occasion, here are a few wee rhymes in the style o'tha Ayshire Bard, with a dash of technology thrown in…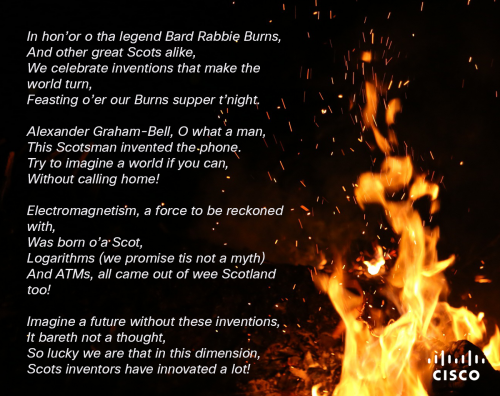 Logarithms
The breakthrough made by Edinburgh-born John Napier revolutionised mathematics by taking it to realms beyond the scope of algebraic methods. Now while I'm not going to try and explain how they work (maths is not my bag…) it's fair to say logarithms make up the foundation of our modern understanding of mathematics, and by proxy this has a profound impact on science and engineering today.
Electromagnetism
Arguably one of the standout discoveries of the 19th Century, the equations suggested by Scotsman James Maxwell shaped his theory of electromagnetism which underpins all electric, optical and radio technologies. It was a discovery described as the "second great unification in physics" after the first one realised by Isaac Newton. Need I say more?
The telephone
Don't let America claim it! It was Sir Alexander Bell who secured the first patent for the telephone in 1876. The Scotsman was a true visionary. After the success of the telephone Bell wrote to his dad (I'm confused as to why he didn't just call?) where he predicted a world where "friends converse with each other without leaving home". An early prediction for instant messaging apps and Snapchat, perhaps?…
The ATM
OK, so while we might not use the cash machine as much as we used to (contactless, you're the one for me) the thinking behind the technology has wider applications. The ATM is one of the earliest examples of robotic process automation (RPA) – using technology to replace a laborious task normally carried out by humans. It frees our brains up to concentrate on higher value tasks. RPA just so happens to be one of the wider trends shaping technology right now…
The tractor beam
Trekkies rejoice! Scientists at University of Strathclyde have built a sonic tractor beam. OK, so it is only able to work on very small scales right now but as far as near-future inventions go that's definitely my favourite.

Tags: