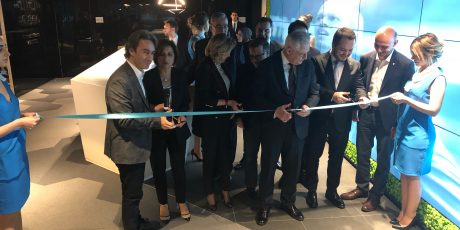 Innovation
A new innovation centre in Istanbul presents new opportunities for the region – and for Cisco
Istanbul has a population of more than 15 million people, crammed into a space that covers an area similar in size to London.
It's one of the world's most densely populated cities, and includes a significantly high proportion of people between the ages of 18 and 24.
The city straddles the European and Asian continents, and is within a few hours of the northern coast of Africa. Its dense, youthful population is infused with a palpable vibrancy and diversity.
Later this year, the doors to what is expected to be the world's largest airport will open on the city's northern edge, transforming the city further into one of the world's most important transportation hubs.
These factors make it the perfect place for our brand new Cisco innovation centre.
Connecting people and ideas 
Launched last month, and located in the heart of the city, the Cisco Istanbul Innovation Centre will focus on innovations in logistics, supply chain, and freight management.
Given its location at the crossing point between Europe and Asia's major trading powers, the city has a long history as a central point for the movement of goods around the world.
And we believe that that identity will flourish in the coming years, as not just goods but also services and bright new ideas will be increasingly exchanged in the city.
As well as – or perhaps because of – the new airport, the city is now attracting interest from global players committed to developing hubs for innovation and connecting with markets across Europe, Asia and northern Africa. 
We at Cisco are leading the way in this.
Taking steps towards a digital future
Our new innovation centre, based at Istanbul Technical University's Arı Teknokent technology park, represents a strong step forward towards greater collaboration between business, entrepreneurs, academia and government in pursuing innovation.
Turkey as a country may be in its infancy with regards the process of enabling digitisation, but we're already connecting with an established network of innovative start-ups that are ready to take the region forward.
The launch of our centre also attracted the attention of other key players in the technology space, as well as numerous government officials keen to understand and work towards more and greater digital initiatives in the country.
Faruk Özlü, turkey's Minister of Science, Industry and Technology, was in attendance at the launch and spoke of the country's appetite for investing in and accelerating the digitisation of Turkey. Our centre will be able to perform a key role in fulfilling this appetite.
Repeated success 
Perhaps what's most exciting for me, however, about the successful launch of this new innovation centre is that it represents our ability to join the dots between the regions the Cisco operates throughout.

We now have 12 innovation centres based all over the world, and we're learning everyday how we take successes from centres in, for instance, the UK, and replicate them quickly, accurately, smartly and sensitively in new and different countries and regions.

This makes the process of expanding and feeding into new, exciting innovation ecosystems around the world a much simpler process.

It also means that we benefit from Cisco's globe-spanning diversity, being able to draw from cultures and centres of excellence all over the world when it's time to seek out an innovative new solution.

At Cisco, we understand that innovation can happen anywhere. And we want to be there encouraging it when it does.

With the Cisco Istanbul Innovation Centre we now have the opportunity to be involved in and contribute to a diverse region that's brimming with passion, ideas and ability.

And this is absolutely in the spirit of collaborative innovation that we live by every day at Cisco.

Tags: