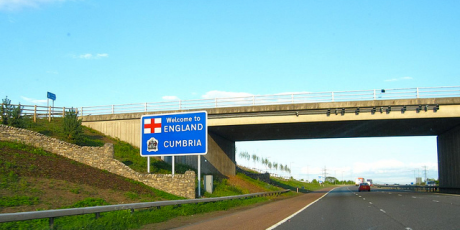 Cisco UKI
4 Typically English Tech Tips for St George's Day
Taking my annual Easter road trip from Glasgow to London I was greeted by a 'Welcome to England' signpost.
This got me thinking about what makes us 'typically English'. I automatically think about cups of tea, followed by Big Ben and our Queen. But being a technologist, the mind wonders as to how English traits manifest in tech.
Here's my 4 takes on the matter:
Talking about the weather
Ah, yes. It's almost impossible to think of a more defining national obsession than the English and our weather. Whether (not weather) we're being rained on like cats and dogs at a high summer wedding, or being burned like lobsters as we sizzle sans SPF in the sun with a pint, it seems we are forever a country at the whim of the weather.
It's not just our actions defined by the English weather, either. It's practically a cardinal cultural cliché of 'Englishness' in our discussion of the trivial fluctuations we experience each day. In fact, our meteorological minds practically border on mania when you consider that 94% of us admit to having conversed about the weather in the past six hours, and 38% have done so in the past 60 minutes. So despite dear old Oscar Wilde denouncing it to be 'the last refuge of the unimaginative', frankly it's our social conversational crutch.
The impact of the weather on every decent working Englishman, woman or team is undeniable. Whether you're battling your way into the office come hail, sleet or snow, or simply venturing out to drop off / pick up the kids (even if you're WFH, that's still got to be done), it's the weather we find as our principal master.
Lucky then, for those of us collaborating with colleagues using Cisco Spark that we have useful bots to cover every eventuality of your working day. You can create bots for any industry from legal to healthcare. Automate routine tasks such as polls and pricing. Even check spelling, translations or (much to the collective relief of English Cisco Spark users everywhere!) use the Weather bot.
Whatever the weather, just ping your very own virtual Michael Fish with the name of your city, and it will give you the current max/min temperature for the day. Cultural catastrophe averted. You'll even have an accurate temperature to share as an ice-breaker for your next meeting. Phew.
Check out the Cisco Spark Depot to find out more about how helpful bots can accelerate your business outcomes.
Twitching the curtains
The English are known for our love of curtain twitching – a phenomena born in the suburbs whereby nosey parkers peek from behind their curtains to spy on their neighbours or see what's going on outside.
Not content with this, we're also a nation of online curtain twitchers. More than 38 per cent of Britons admit to checking the price of someone else's home online – including the properties of neighbours, family, friends and colleagues.
Having complete visibility of everything that's going on is absolutely necessary however when it comes to your data centre network and keeping your organisation safe.
Just imagine if you could identify a breach to your network in real-time. Had visibility of hackers still on your network, what has been taken and any threats left behind. That's exactly the capability you get with Cisco Tetration Analytics. It's a big data and analytics platform giving you complete visibility across everything going in your data centre in real-time. This lets you move to a much more robust model for information security, governance and compliance.
What's more, we recently acquired AppDynamics, whose real-time data platform for managing application performance will be correlated with our data platforms over time to provide organisations with a rich, end-to-end view – from business to user, to app to infrastructure.
Our solutions mean you can become the ultimate curtain twitcher for your organisation to ensure security and compliance while delivering the best possible app performance for your end users.
And without a curtain in sight.
Queuing (a lot)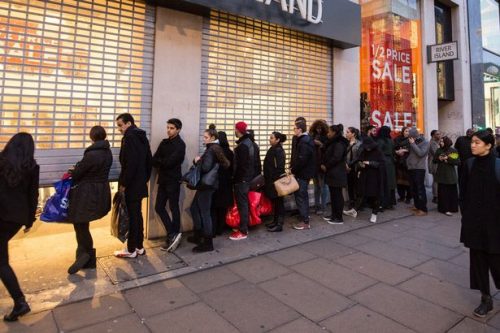 While the British are known for our respect of queues, there are limits to our tolerance!
Point of sale is a pain point for customers and retailers alike. Although self-service checkouts have gone some way to easing this pain in some sectors, the queues remain.
IP security cameras provide an opportunity for shoppers to pay using their smart phone or wearable, or by using a contactless card. They can then walk out without sounding the alarms, assuming their device is registered on the Wi-Fi network and payment can be cross-referenced in real-time.
Amazon may have been the most high-profile innovator of the 'frictionless' model with the December 2016 Seattle debut of its frictionless concept for grocery, however retailers worldwide have been investigating the possibilities in this area in parallel.
We're currently experimenting with license plate recognition, which, together with the presence of a smartphone mac address enables 'frictionless fuel' (refueling + automated payment). At least it's an option, unless you just can't resist a good queue of course!
Keeping a stiff upper lip
When our patron St George sleighed a dragon, his name became legend. Once more unto the breach, dear friends, once more.
Today, England's foe is not a dragon but a dark spectre known as low productivity. But take heart. Our harvest may haft fallen behind other kingdoms in recent times, but, resurgence is nigh, forsooth!
Have ye heard the tales of the Northern Powerhouse? Or perhaps the yarn of the Midlands Engine? England's olde and proud regions are stoking up their mills and upon all cylinders firing.
Cisco Mobility tech is helping to make this possible. Work is no longer somewhere you go but something you do. Mobility enables virtual collaboration, global connectivity and 24/7 desk time.
When employees can take on tasks at their own convenience, in their own bungalow: companies can offer home working, part-time working, flexi-time and job sharing. As a result, they're attracting the most talented craftsmen and women in all ye realm. This includes, among others, employees near retirement, retirees who want to work part-time, working mothers and, increasingly, working dads. No matter 'ere they dwell.
Let's breathe new life into the regions. "The game's afoot; Follow your spirit: and upon this charge, Cry — God for Harry! England and Saint George!"
Moreover, let's raise a glass to all of us who are techie, English and proud, leaving that DIY to the May Bank Holiday – Happy St Georges Day!