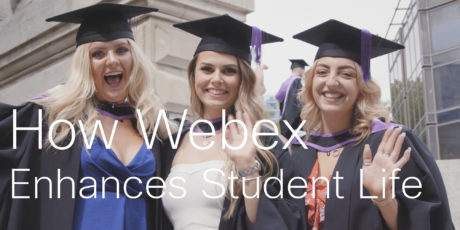 Collaboration
3 ways Webex enhances student life
University is an experience unlike any other that prepares and inspires people to make their difference in the world. And at the University of Portsmouth, Webex is helping students navigate their way through academic life.
Last month, we visited the University of Portsmouth during one of the most exciting times of the year – graduation season. I'm not sure who was prouder; the students, parents, or faculty.
Between the smiles and snaps being taken on the steps of the Guildhall, the excited buzz of graduates marking the future was electric. Enhancing the future of work is exactly why we started working with the University of Portsmouth. As well as the lectures students attend and the subjects they study, how they learn and study is also important, and we enjoy helping facilitate that.
We sat down with the University of Portsmouth to talk about how they are future-proofing their students by helping them collaborate and work smarter.
1) No limits to where students (and faculty!) learn
"We welcome students from all over the world, and we have faculty peers across Europe and the Middle East, so we need to be flexible in how we communicate", says Jeanette Connelly, Principal Communications Specialist.
The University buildings are also spread throughout the beautiful city of Portsmouth, and no matter where they are, staff productivity stays high and students can stay connected with real time learning resources.
"In some of our science modules, we assign group projects. It's interesting to see how students are practising their presentations and collaborating via video outside of class," says Kirsten Farrell-Savage, Principal Lecturer and Admissions Lead. "Being able to keep that learning and conversation going in a more relaxed environment really enhances the student experience."
2) Welcoming students and teachers from all over the world
One of the most nerve-wrecking times of the year is in August when results are released, and the admissions team spend the summer preparing acceptance communications for students.
"We have to interview students across the UK and the world who want to join one of our courses, and it's important we can do that via Webex video," explains Kirsten. "Sometimes the applicant cannot afford to travel to the university and often it's a lot less stressful to sit on video in the comfort of your own home."
The University also hosts online virtual events with lecturers worldwide who use Webex to connect with hundreds of students who attend the event seminars.
"The opportunity to have real-time sessions with world renowned academics is something we may not be able to afford if it wasn't for collaboration technology. These experiences truly motivate students and staff, and enrich their learning," says Jeanette.
3) Enhance the student experience
In this new digital age, it's important to future proof students by giving them access to the same tools they will be experiencing in their prospect workplaces.
"Our students and our staff are working with new technology all of the time, and it's important for them to have that experience so we can help set them up for their future careers," says Kirsten.
Whether it's in a corporate, retail or medical career, collaboration technology is only becoming more and more useful in our interconnected world. And evidently, it's becoming an important must-have for the student experience.
Find out how Webex can support your organisation  – and find out more about how our technology solutions are supporting the world of education.
Tags: