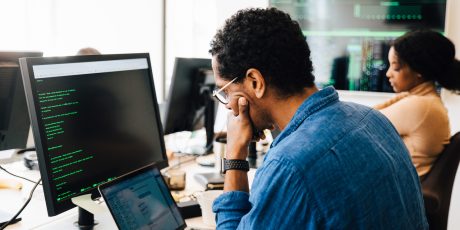 Inovação
Cisco Innovation at its core: Developers are key for business growth
As technology continues to advance, developers have become a critical part of IT companies and businesses. They are responsible for creating software and applications that are essential to companies' success. However, the job of a developer can be quite challenging, and often support and help is needed for them to excel. 
In this blog article, I'm bringing to the reader's attention the ways that Cisco can help, and support developers perform and "do their magic" by providing access to specific resources and training. 
One of the best ways to help developers is by providing them with the resources and training they need to stay up to date with the latest technologies and industry trends. This can include access to online courses, sample code, APIs, webinars, and other resources that can help developers improve their skills and knowledge. In-house training programs and workshops also help developers learn new tools and technologies. 
Cisco has been a leader in innovation in the software, security, and networking industry for decades. Our technologies have revolutionized the way we communicate, connect, work and play. For a developer, there are many ways you can leverage Cisco's innovation to create powerful and scalable applications that meet the needs of modern businesses. 
DevNet:

https://developer.cisco.com/
DevNet provides access to Cisco's APIs, software development kits (SDKs), and other tools to build innovative applications on Cisco's platforms. The platform offers a range of learning resources, including tutorials, labs, sample code, tools for improving API quality, and sandboxes, to help developers get started with Cisco's technologies. 
DevNet also offers a community for developers to connect, collaborate, and share best practices with other developers. The community includes forums, events, and a mentorship program to help developers grow their skills and advance their careers. 
Cisco Innovation Labs Network:

https://eti.cisco.com/cil

 
One of the key elements of Cisco's innovation strategy is its network of innovation labs around the world. These labs are designed to bring together Cisco's engineering teams, customers, partners, startups and developers to collaborate on new ideas and technologies. The labs provide a platform for testing, validating, and scaling new products and services in real-world environments. 
Cisco currently operates nine innovation labs globally, including locations in California, UK, Canada, Brazil, France, Spain, India, Japan and Australia. Each lab has a specific focus area, such as security, mobility, or the Internet of Things (IoT). The labs offer a range of services, including technology demonstrations, customer briefings, workshops, and hackathons, to help drive innovation in the industry. 
Mentorship and Support, with community-based approach:

https://ciscodesignpartners.com/

 
Cisco can also provide mentorship and support to developers. This can include assigning a senior developer as a mentor, offering regular feedback and performance evaluations, and providing opportunities for career growth and advancement. By providing mentorship and support, developers can achieve their full potential. 

In conclusion, developers play a critical role in business and Cisco is addressing that by providing resources and training, creating a positive impact in their work, supporting their professional experience, and providing mentorship and support. 

Want to learn more, check out our learning labs: https://developer.cisco.com/learning/

Tags: