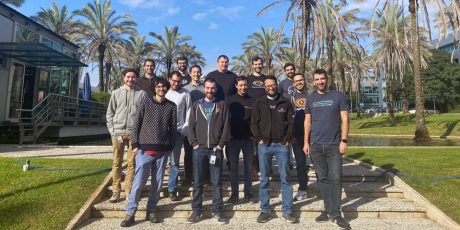 Our People
ThousandEyes Grows Team at Portugal Hub, Seeks Talented Techies to Join
Cisco ThousandEyes is seeking new talent to help us fill multiple roles at our hub in Portugal. An excellent environment for tech development, it is no surprise that the Lisbon office is our fastest-growing in EMEA.
Recently, Murtaza Doctor, ThousandEyes' VP of Engineering and Operations, visited the company's Lisbon office. During his stay, Doctor met with the team and saw first-hand their efforts to help customers thrive in a connected world. His visit underscored the importance of ThousandEyes's expansion into Portugal and its commitment to establishing a presence there and on the European continent more broadly. "I am amazed by the energy here and how, in a short period, we have been able to build a world-class team in Lisbon and across Portugal," said Doctor.
Portugal Since Day One
The company was drawn to Portugal not only for its talented tech workforce but also for its excellent year-round weather and renowned cuisine. Plus, the country is home to several leading tech universities, such as Instituto Superior Técnico and Universidade do Minho, which produce highly skilled professionals. In fact, ThousandEyes' co-founder and CTO, Ricardo Oliveira, is Portuguese and a graduate of Universidade do Porto. "Portugal is integral to our growth strategy," said Doctor. "For the foreseeable future, we will expand in this technically talented region as we look to grow and evolve our products and services."
Problems We're Solving
The Lisbon hub has played a vital role in the growth of ThousandEyes, and the company is excited about the potential for further expansion in the country. Our team in Portugal is innovative and highly skilled, contributing majorly to the company's success.
The work at ThousandEye's Portugal hub is very technical, allowing employees to take on big challenges at an enterprise scale. For example, the team is working on more seamless integration between ThousandEyes and AppDynamics so that users can monitor their services with fewer windows. There is also work to open the ThousandEyes API to the world
ThousandEyes in a Nutshell
You rarely get to work for an organization defining a space, which ThousandEyes does as a market leader in network and application performance monitoring. Our software helps businesses visualize, optimize, and troubleshoot their Internet and cloud infrastructure. 
By monitoring their networks and the Internet in real time, we help businesses and organizations identify and resolve issues before they impact end users. ThousandEyes' software is used by organizations across various industries, including finance, healthcare, and e-commerce, to ensure their networks' smooth and reliable operation.
Culture Makes All the Difference
ThousandEyes has a hybrid work culture that blends the best of working in an office with the benefits of remote work. We have people distributed across Portugal, bringing many options for people outside Lisbon. And teams are working across many time zones, so it's really up to you to find the time when you're most productive and can deliver more.
We believe that when people are happy at work, they do better work. We also believe in giving back to our community through service. In January 2023, team members in our Portugal hub used some of their 80 hours of annual Time2Give to help Rede de Emergência Alimentar with their food bank services, combating food waste while helping those in need.
As part of Cisco, we are also ranked #1 in Fortune's 2022 Best Companies to Work For®. Why? Because our people are excited about the possibilities for invention, collaboration, and design when you combine ThousandEyes' start-up culture with Cisco resources and global reach.
Open Positions

ThousandEyes is always looking for talented individuals to join its world-class team. The company has several open positions in various roles, including engineering, sales, and customer success. These positions offer the opportunity to work with cutting-edge technology and solve challenging problems alongside highly skilled professionals. 

ThousandEyes values diversity and encourages individuals of all backgrounds to apply. If you are passionate about technology and have a track record of success, ThousandEyes may be the perfect place to grow your career.

Tags: