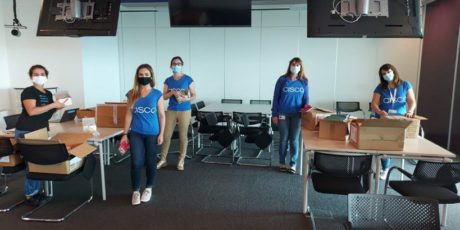 Our People
Making an Impact with Cisco Portugal
What makes a good place to work become a great place to work? Or even the #1 Best Place to Work in the country? At Cisco Portugal, it's our amazing culture that differentiates and takes us beyond the common workplace. Giving back continues to be a crucial part of our DNA and since the very beginning, our Cisconians have been committed to making a positive impact on our community.
In recent years, Cisco has implemented a series of giving back efforts such as:
40 hours each year to give back separate from employee's regular paid time off
100% matching donations from Cisco to approved organizations up to $10,000
For every hour an employee spends volunteering towards an approved NGO, Cisco donates $10 to the non-profit via Bright Funds – multiplying the giving back effect.
This year, however, we faced unexpected challenges, ones where we had to put our creative minds to the test and find new ways of bringing our teams together to organize truly impactful initiatives. As always, our site didn't disappoint because we knew the community needed our support more than ever.
With physical and geographical borders imposed, our volunteering efforts had to be more innovative. Connected Portugal, our EROs, and the amazing employees in Portugal looked for new ways to give back to the community without leaving their homes.
During this fiscal year, we managed to register 80% of participation from Cisco Portugal employees and currently have more than 14 local NGOs approved on BrightFunds – putting us in 1º place in EMEAR in regards to Giving Back. I'm excited to share with you some of our most impactfully and meaningful giving back activities from Fiscal Year 21:
For the third year in a row, Women of Cisco Portugal collaborated in another remarkable partnership with Girl Move Academy, an organization that looks to lead an educational and mentorship movement that multiplies opportunities for young women who want to change the world. We had the pleasure of welcoming Girlmover Sheila all the way from Mozambique for a one-month internship and have our different teams and organizations deliver 30 virtual meetings. This was our first ever fully virtual internship, and the outcome was exceptional as Sheila described.
Cisco Portugal has been partnering with local NGOs such as CAPITI, focusing on children with neurological disabilities and Cozinha com Alma on providing quality meals to families in need. This year, with everyone's effort and through different initiatives throughout the year, we were able to sponsor four CAPITI children and donate more than 1.000€ to this NGO. While also supporting Cozinha com Alma and providing daily warm meals for 40 people for 2 whole months.
During the Christmas season, our Cisco Santa and Cisco Elves were busy preparing and delivering 50 Christmas baskets and over 30 presents to various local organizations such as CAT Tercena, IDEQ, Casa da Fonte and Casa do Parque.
Throughout the year our teams put together several virtual activities focused on bringing the team "together" while simultaneously giving back through sessions such as the Zumba Party in Pink in October in honor of Breast Cancer Awareness Month and Movember to raise awareness for men's mental health issues. All donations raised went towards local NGOs supporting these causes.

These are just a few examples of the team's outstanding impact during the last few months. I am honored to be part of a company and a team where people truly take difference to heart and go out of their way to better impact our local community. Thank you, Cisco Portugal!

Tags: