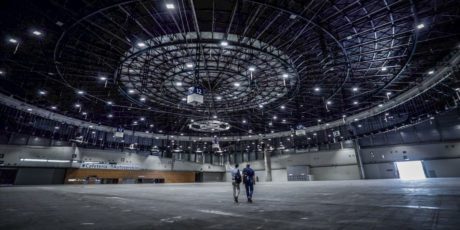 Enterprise Networking
How IFEMA Built the Largest Field Hospital in Europe using Cisco Wi-Fi
Events are a source of prosperity and a boost for regional and national economies. For a venue to be competitive and attract large international events, fast, reliable and secure connectivity is no longer just an added value, it's an imperative.
IFEMA
As the leading trade fair organizer in Spain, IFEMA wanted to be a technological benchmark, by offering an excellent digital experience to their 4.3 million visitors and 33,000 exhibitors each year.
Exceed expectations
IFEMA's challenge in 2018 was that its network was not prepared for the two types of challenging events they were organizing:
International events of great economic importance to Madrid
Events with increasingly complex technological needs
They had to meet and exceed expectations for connectivity and therefore update the outdated network with a tailored solution for IFEMA's high-density environment. And not only that: they also needed a partner to help them with the implementation to make sure that the solution would go beyond what they had in mind.
Cisco partner NTT
NTT – one of Cisco's Gold partners – won the public tender. The company successfully carried out the implementation of a robust Cisco Wi-Fi network with 1,400 access points. A network capable of serving any event with highly specific technological requirements. They could now say that they had a venue with one of the best Wi-Fi networks in Europe.
A glimpse of things to come
But it was not just about having one of the best Wi-Fi networks in Europe. For IFEMA, the adaptability of that network was just as important. Sometimes having the best network doesn't cut it – unless it can adapt to evolving needs and unforeseen future situations. Little did they know back then what the future would bring or how resourceful they would need to be when the events that shook the world in early 2020 began to unfold.
COP25
For IFEMA the great stress test came when, after the sudden cancellation of the climate summit by Chile, the Spanish government offered to host it in Madrid in December 2019. The United Nations Climate Change Conference, also known as COP25, showcased IFEMA's connectivity capabilities: 4,096 public IPs and 20,000 concurrent Wi-Fi connections. 1,400 Wi-Fi access points and 25,000m of networking cable. 10,000m of fiber-optic cabling and 3,000 wired network connections. Thanks to the network, IFEMA was able to face this challenge. COP25 was the trigger to be able to adapt immediately to any circumstance.
Pandemic
When the pandemic ravaged Europe, Spain was one of the worst-hit countries. Given the impossibility of Madrid's hospitals to care for all patients, the President of the Region of Madrid contacted IFEMA's General Manager, Eduardo López-Puertas, with the request to urgently deploy a field hospital with 5,500 beds.
Secured wireless network
When the work began on the hospital, the secured wireless network was the first thing to be up and running. In record time all the connectivity services that a hospital requires in an emergency situation were enabled. IFEMA worked closely with NTT to be able to connect the network securely to Madrid's health system. Doctors were immediately able to access patient records anywhere, anytime. During the pandemic (wave 1) IFEMA hospitalized 4,000 patients.
If there is one thing that the pandemic has taught Carlos Jiménez, IFEMA's IT Director, it's that scalability, adaptability and robustness of technological solutions are no longer merely differentiating factors. They are a requirement for survival.
Prepared for the next unknown
IFEMA is now confronting the challenges of the "new normal." By deploying Cisco Wi-Fi 6, Cisco Umbrella, Cisco DNA Center and Cisco DNA Spaces IFEMA is able to implement new functionalities such as temperature- and social distancing sensors.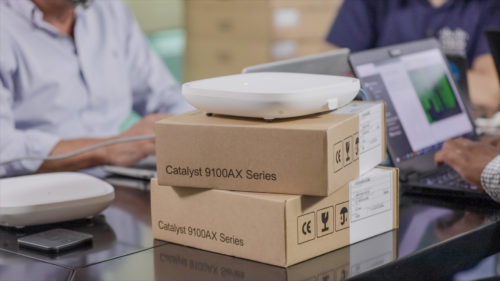 By using Cisco DNA Spaces, IFEMA can derive insights from real-time analytics to ensure safety and compliance with social distancing guidelines.
Whatever industry you're in, see how your network can help.
See the entire IFEMA Case Study
From making events, to making a difference. There is a bridge.