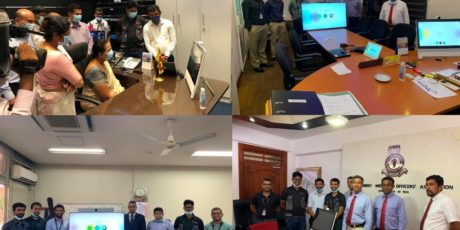 Uncategorized
Women of Impact – Together, for change
Author:

Namratha Kallavi working with Cisco IOS-XR Engineering team for the past 2.5 years. This is her third year in an attempt to bringing you all the written coverage of the CCW WOI event series.
You can reach out to her at namkalla@cisco.com for feedback and suggestions!
——————————————————————————————————————————————————

Together, for change!
Change in perspective towards life, change in self-validation, and change in rapport with bosses at the workplace! This year of WOI was all about transforming yourself into being more expressive, demanding and opportunistic.
Reach out and talk, women! Question, when something is what not it ought to be.
Let us save ourselves the grace of not having to think of someone else and come up with stereotypical, baseless or biasedly based answers to questions we have not even asked!
Shed the ego and reach out for help, advice, sponsorship and mentoring!
This year's celebrations marked the third season of Women of Impact series hosted by the CCW community, coinciding closely with the International Women's Day.
The event was moderated by Ginita Taylor, Director of Strategy and Planning based in Cisco Australia, and Ramya Srinivas, Manager with IT in Cisco Bangalore.
The event included a talk by Guest Speakers, Susan and Tim, a panel discussion, and an inspiring talk by Deepa Malik, along with the paper presentations, awards and high voltage energizer sessions.
The event saw a turnout of around 350 people in house and over 1000 people who connected on Cisco TV. The paper presentation and demonstrations were spread across nine booths.
The discussions were around pay parity, gender bias at work, bringing up our boys right and nurturing the mentality that women can do what they resolve to.
Guest Speakers, Susan and Tim from BalanceNow: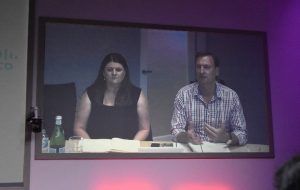 Susan and Tim are founders of BalanceNow, an organization that aims at creating gender parity at workplaces.
No. You will not see routine presentations on statistics on how the pay scales are spread. Their approach is a different one. They believe in data on behavioral metrics that matter –like culture and rewards.
With their copyrighted scores of Women on Working (WOW) and others, based on the assessment of workplaces, they determine what the workplace needs and accordingly organize trainings on behavioral science and practical experience.
This talk included an insight into their research on what creates gender bias, what organization currently do to bridge this gap and what is actually wrong with the approach that majority of the organizations take. Each of their techniques for bringing about a change in the organization is nurtured upon data driven insights drawn from thorough analysis of the processes in the workplace.
They are here to create a change in every organization and turn talk on gender equality into action.
Panel Discussion:
Panelists: Miyuki Suzuki, Vicki Batka, Dominic Scott, Lavanya Gopalakrishnan
Moderated by: Ginita Taylor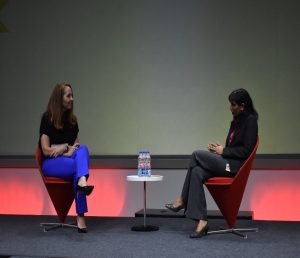 This year's panel discussion saw an uninhibited, open discussion on pay parity, gender bias at workplace and touched upon bringing up boys to be more sensitive and refrain them from pigeonholing women into roles.
The pulse of the panelists, who happen to be in top management roles, was that, women need to be more demanding and informed of their contribution at the workplace. Open communication is the key to survive. Do not wait for godfathers. Be the chameleon of change. Sense change and react, reskill accordingly. Outgrow your natural traits of selling yourself short. Charity begins at home. Teach men from a young age that gender biases and professional clichés are not healthy.
Motivational talk by Deepa Malik: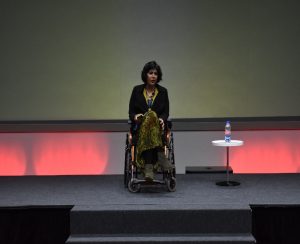 Meet Deepa Malik. A paraplegic with a bunch of sports medals including one Silver at the Paralympics, an Arjuna awardee, a President's role model awardee, a navigator and driver at the Raid-De-HIMALAYA rally, a 4-record holder in the Limca book of Records. These are just some of the achievements of hers.
Deepa Malik's life is a personification of sheer grit, determination and a strong will to make a change barring all odds. Summing up her life, Deepa Malik says her life is not a hackneyed idea. In her own words, no physical condition can ever stop her from feeling beautiful. And her life is just an extraordinary example of that.
An unhealthy childhood, a paralyzed daughter as a young mother and subsequent complete paralysis rendering her below-the-torso motor skills zero – nothing could stop this woman from following her passion of outdoor sports and, representing India and most importantly the indomitable spirit of people with disability. Her life is not about being a winner internationally in sports. It is all about accepting adversities and still smile at life. It is about gratitude and counting your blessings. It is about always looking at things with the right perspective. It is all about finding happiness in yourself. And being a winner in life. A trend setter and a bringer of change. Being an inspiration for people with special needs.
And this, she says is not a solo journey. It is a journey shared by her family, doctors and friends who have helped her and contributed to the winner she is, today.
When life gives you lemons, change your perspective about life. Accept it and take charge of things in your control. Lemonade, anyone? 😉
Energizer Sessions by the DFrens Group:
Well, Cisco believes in working together for change, when it comes to entertainment too. Here are a few pictures capturing the pulse of the crowd at the event J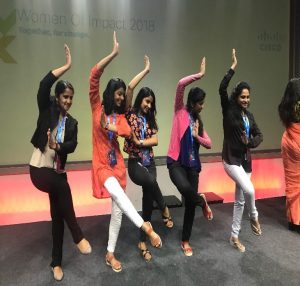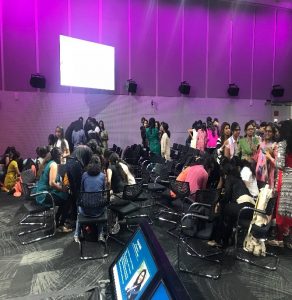 Paper Presentation:
This year saw an inclusion of paper presentations for the first time in the WOI event series. The technical track included topics like Machine Learning, Security, Next-gen testing and Telemetry, among a few others. Non-technical track encompassed Strategic Thinking, Disruptive Innovation and Organizational Transformation.
Of the 67 papers, rated among a cross-functional jury, the awards went out to:
Technical Category
| | | |
| --- | --- | --- |
| 1st place | A user centred Design experiment at CCBU, Cisco | Bhuvana Sekar |
| 2nd place | Continuous Integration/Continuous delivery pipeline | Sonam Bansal |
| 3rd place | Different approaches to Container Networking | Garima Sharma and Vinutha Rao |
Non-Technical Category
| | | |
| --- | --- | --- |
| 1st place | Strategic Thinking | Rahana Raj Vazhaveetil Rajan and Bithika Dutta |
| 2nd place | Organizational Transformation Through Personal Effectiveness | Latha R |
| 3rd place | How to be a strategic thinker | Keshvica Sharma |
The Backbone Network
From inception to execution, an event is a culmination of hard work, smart work and creativity of the people behind it. This is an acknowledgement for everyone behind the curtains who made this event a stellar one.
Thank you, Sandhya Lakshmi, Anjali Bhatia, Jagjit Kaur, Swetha Jain, Pavithra Mahadev, Ashalatha Tom, Navintara Kamath, Pavithra Hegde – contributors to various CCW events over the last year.
And a big shout out to the WOI/CCW leads and the core team, Ramya Srinivas, Deepika B.R and Lalitha Balasubramaniam, Surekha Sailesh, Prasanna Arumugam, Gayathri Jeyaram, Rashmi Muddaiah and Swapna Narayanswamy Thank you!
Well, need I explain the amazing contagious energy that the team exudes? These pics elucidate it for you J