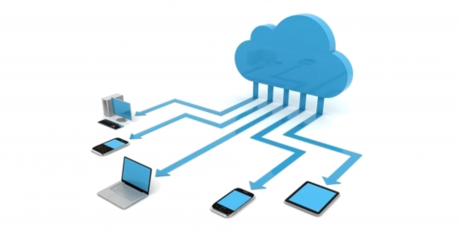 Digital Transformation
The application-centric world of the Cloud
Digital transformation has arrived, and the impact of this transformation is visible across every industry. According to the MIT Center for Digital Business, 90 percent of CEOs believe digital will have a significant impact on their industry. A Gartner survey says 56 percent of CEOs believe digital investments have improved net profit.
While organizations are embracing digital transformation to create new customer experiences, transform processes, business models; empower workforce efficiency and innovation, technology trends like Cloud, mobility, and big data applications are causing a shift in data-center models.
All about apps
On-premise IT consumption models are shifting to cloud-based services, IT as a service (IaaS) is being replaced by applications as a service. Integrated development and operations are becoming the order of the day as box-centric management models are migrating to application-centric management.
Infrastructure is expected to become application aware and more agile to support physical, virtual, and cloud environments. As applications become increasingly infrastructure-independent, they treat the data-centre as a dynamic shared resource pool. This demands greater network performance and scalability because multi-cloud models require the infrastructure to be secure and multitenant aware. Incrementally, applications are expected to be anywhere.
At some point, the applications are expected to be firing on-prem (during peak the load is shared on the Cloud) and some deployments are expected to be fired up from both on-prem and Cloud simultaneously.
Simplicity is the key
Customers today want to deploy applications with full freedom to take advantage of the latest cloud models. Business leaders want to enter new markets, deliver new products and services, manage risk, security threats and drive more efficiency into their business. Business agility directly depends on application agility and IT must provision applications in hours and resources need to scale up (or down) in minutes.

This brings a new age challenge of managing complex environments in a simplistic way. Enterprises today are approaching their deployments in more than one ways. At one end, they are making their DC environment to support such flexibility and move/share workloads between different environments, while on the other, they are designing their WAN architecture with similar flexibility to access workloads residing in multiple datacenters with the same level of security.

Thanks to new age technologies like SDWAN, enterprises today can choose to create a Hub and Spoke model for a work-load and a Spoke to Spoke model for the other. And all this with the same level of security.

Clearly then, innovative architectures that radically simplify, optimize and accelerate the entire application deployment life cycle are needed to overcome IT silos, reduce costs and complexity. An approach which uses a common policy-based operating model across the network and security elements (computing, storage in future) helps redefine the power of IT, makes IT more responsive to changing business and application needs, enhances agility, and adds business value.

Tags: