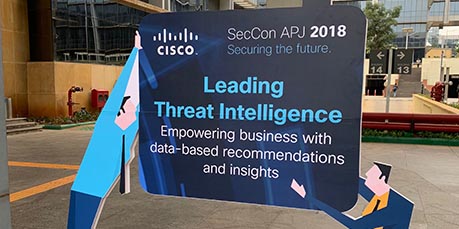 We had SecCon APJ 2018 conference in Bangalore India from Oct 3rd-5th to celebrate the Cybersecurity Awareness Month @ Cisco.
Security is in everyone's mind and with the threat landscape changing dynamically, the awareness of what we need to know and how do we build a secure Cyber Foundation to secure Everything is essential.
3 days with power packed Speaker sessions, Panel discussions, Bootcamps and Real experiences of products at work along with some learning on how things could go wrong.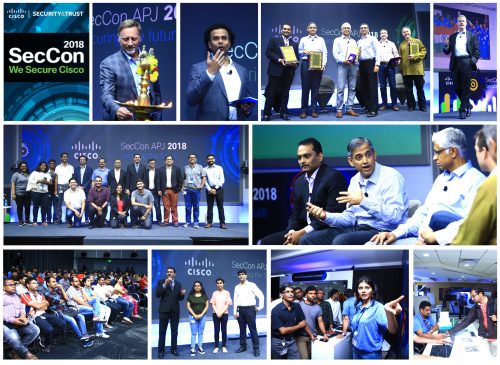 Key Takeways:
1: Commitment : Great to see Engineers and leaders from Business Units, Customer experience Org, IT and security practitioners across the company coming together and sharing best practises along with their expectations on how to continuously secure Cisco and its products. Weeklong Bootcamp sessions on various topics to help accelerate our robust security practice. Setting higher expectations to the developers with respect to Security Readiness Criteria and raising the bar to achieve higher resiliency and having detailed discussions with Experts in terms of the newer expectations ensures that we are getting ready for the future. It is awesome to see the collaboration and partnerships across groups to internalise and drive the message of 'Securing the Future'.
2: Experience :  Reality Strikes.. The attendees had  'Live the Hack' experience where the devices they had (Loaner Phones) were hacked to demonstrate the vulnerabilities and to showcase the impact of a breach left many awe stuck.  We also involved the broader ecosystem by inviting Key customers and partners for the first time to share our Security Journey and to understand the innovations as well as to hear 'Defending Olympics and Common wealth games from Cyber attacks' and 'Architecting your Zero Trust network'.  Along with the engaging presentations and Panel discussions, the icing on the cake was to take customers and partners through an immersive security experience of 'how we protect Cisco' and a view of our Security architecture along with demonstrating the integrated portfolio in action working seamlessly to protect Enterprises and Corporate networks in different stages of an Attack continuum enabling Detect Once and Protect Everywhere. 
3: Culture : Building a culture that makes everyone responsible for security and incorporating security in everything they do is key. Having 30+ speakers share their knowledge on Best Practices, Products, Newer technologies and case studies provided the additional context for the attendees to look at ways to learn and be ready for the future. As we always know, People are our greatest asset and it was very fulfilling to see few our new Security Champions who have led the way in making a major difference in driving the culture globally. Congratulations to those who got recognised and for all who continue to play a key role in Keeping Security above Everything.
Special callout to the Core team for making this event a great success and appreciate the partnership and support from leaders from S&TO, GSSO, Engineering, CX and IT.  Click here for video highlight
Thanks
Giri Govindarajulu
Infosec Leader, Cisco APAC