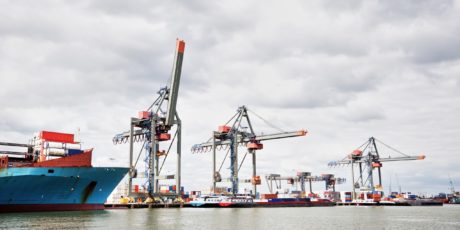 Digital Transformation
India Maritime – How technology adoption can help port landlords focus and plan optimal investments
India's maritime sector is one of the most significant growth precincts yielding robust demand. Given its strategic location across global shipping routes, the industry will continue to spiral progress. Technology can play a huge role in streamlining investments.
 In India, 11 ports are owned by the Indian government and run as trusts and widely follow a hybrid format of service port intending to move to a complete landlord model. Before we dive into the essentials, it's important for us to understand the two models in context to the completive landscape of the maritime sector in the country.
In the service port model, the port authority owns the land and all available assets—fixed and mobile—and performs all regulatory and port functions. Here, the port trust is both the landlord and the cargo terminal operator. However, in a landlord model, the publicly governed port authority acts as a regulatory body and a landlord while private companies carry out port operations—mainly cargo-handling activities. The port authority maintains ownership of the port while the infrastructure is leased to private firms that provide and maintain their superstructure and install their equipment to handle cargo.  In return, the landlord port gets a share of the revenue from the private entity.
Ports currently compete at the regional level for transhipment cargos and the global level for selection as ports-of-call by major liner companies; therefore, it is not always possible for their capital requirements to be met by the local or central governments hosting the ports. Private participation is usually the solution to such issues. Also, increased private ownership is associated with higher productive efficiency of port terminals
However, when private firms are involved in the port operation, the governance model becomes an important issue. The objective of a private port is to maximise profit, while the objective of a public port is to maximise the regional welfare, which should include ports' benefits and users' surplus.
Today Seaports are playing catch-up with the large T&L players when it comes to developing insight-driven solutions and IoT applications. Although the Smart Port and IoT initiatives are commendable, there is still a long way to go before we can truly speak of fully integrated ports that fully capitalize on the potential of IoT and insight-driven applications, in other words true "Smart Ports". Becoming a Smart Port means developing solutions to address the current and future challenges faced by seaports including spatial constraints, pressure on productivity, fiscal limitations, safety and security risks, and sustainability. Today's technological and business model innovations can be a driving force behind the Smart Port.
Today, ports need coordinated efforts to help every vessel fulfill its mission, through seamless integration of pilots, linemen, tugs, mainline operators, barge carriers, and many others. Ultimately, through collaborative data sharing and coordination, the vision of a digital port can be achieved to unlock business value and enhance the competitiveness of the port but the heterogeneity of data, and fear of transparency remains a major issue. A landlord model is comprised of a cluster of competing companies. Thus, they are often very hesitant to share information with a central authority that can aggregate and distribute the data amongst the stakeholders involved. In addition, the interaction with the surrounding environment, both ecological and social, adds an extra layer of complexity and opportunity to Smart Port development.
We propose a five-step approach that brings all stakeholder touch points under one virtual umbrella, ensuring seamless communication and flow of data, to ensure outcome-driven performance. These steps are:
Having one common network infrastructure manage current and future connectivity needs.
Having a robust security infrastructure to secure both physical an digital environments
Enabling automation of performance monitoring of all assets as well as tracking productivity and turnaround time improvement by use of various IoT sensors and Camera Vision Analytics
Having a platform approach for maintaining digital dashboards around key metrics and time-defined targets. This will also ensure timely escalation and resolution of operational challenges and issues
Effective video and voice-based collaboration to ensure the exchange of ideas and best practices between key stakeholders
How can landlord ports gain through technology adoption and where should they focus?
Define a smart port vision, and plan for underlying architecture thus avoiding the deployment of duplicate IT resources.
Invest in a resilient wired and wireless access network.
Protect your data, digital platforms, and operations by implementing a strong cyber security framework.
Data is meaningless if it is not integrated and not available in meaningful formats. Focus on integrated digital platforms
Maintain a digital repository of all documents for each department. This will help in reduced delays in responding to requirements of audit and statutory compliance
Fuel is one of the major expenses, with ports providing it for tugboats, and mobile cranes pickup vans, without being able to track consumption in line with operational run times. Use of. IoT can help in tracking the actual expense and reduce leakages. IoT can also help in the maintenance & upkeep of critical assets including DGs, Substations, ACs, and water pumps through real-time insights
For trade to make money, it needs to move. Invest in an intelligent traffic management system for traffic-rule enforcement and smooth operations.
Invest in digital tools to track the progress and completion status of all civil and non-civil projects.
There is a strong need for a robust access control management solution to enable smooth operations and enhance port-security
Smart lighting solution for efficient energy and lighting needs of the ports
The right technology affectations regulate investments for optimal growth and performance. For more details connect with us at : abudakot@cisco.com