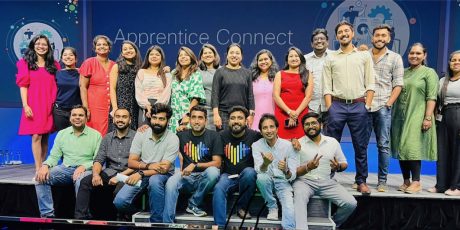 Uncategorized
Emerging Talent Recruiting
Cisco, over the last few years, has been investing in people and their careers. We believe that most of what we learn occurs at work. We learn, upskill, and cross-skill to get the job done and deliver the best possible outcomes. This sense of satisfaction of learning and growing trumps many other external factors.
Cisco's strategy for the future is clear, having an ecosystem both within and outside for people associated with learning and growing. Moreover, making it easier for Cisco employees to move within different teams to ensure there is continuous learning and a diverse mix of people thriving within the organization with strong fungible skills for future growth and sustenance.
Cisco's Emerging Talent Recruiting (ETR) is the recruiting arm responsible for hiring early-in-career and emerging talent, with strong internship and apprentice programs for aspiring students. We are the bridge between talent and the amazing world of opportunities across Cisco.
Cisco offers dream careers in technical and non-technical domains, allowing future leaders to build skills while working on live projects through our internship, new graduate, and apprentice programs while staying true to the broader philosophy of the free talent movement.
Amongst the various important strategic pillars of ETR, creating a strong diverse pipeline of talent pool probably takes the cake. We @ ETR understand Cisco's larger goal, our culture, and the future we want to create. This helps us identify the best talent for the organization for a better tomorrow.
With the pandemic accelerating the pace of digitization and the Internet being the equalizing force across and beyond boundaries, our hiring strategy is to dissolve entry barriers for aspiring candidates and create programs that assess the potential of the candidate for being successful at Cisco. Our assessments offer a fair platform for diverse candidates to show their talent while interacting with our trained and experienced interviewers.
Amongst the multitudes of programs created to break the boundaries of hiring and making it easier for candidates to work for Cisco, Ideathon makes us truly proud.
Cisco Ideathon, the award-winning innovative emerging talent-hiring program, is celebrating its fifth successful year. It has touched the lives of more than 76,000 students and powered an inclusive future for 550 students, Cisco's next-generation talent. More information on Cisco Ideathon can be found at the microsite below: http://cs.co/Ideathon
Experts say that your first job and mentor play a pivotal role in mounting your career for bigger and greater possibilities. The enviable nurturing, grooming, exposure opportunities, advice, and role models at Cisco bring out the best in you by recognizing your individuality, potential, uniqueness, and creativity. It is no wonder that Cisco is one of the most aspirational companies in the world for someone who is intellectually curious and a lifelong learner.
"Discover Cisco" to experience what we are. Discover Cisco, our in-house platform created for emerging talent by a group of volunteers within Cisco representing various experience levels from early in career to directors to VP's… The idea of this platform was to have a one-stop-shop for anyone who wants to experience Cisco and what we bring to the table from an employee perspective. The five tracks that touch everyone and anyone who wants to work for Cisco are:
Technology is at the core of everything we do, and through the World of Technology track, we amplify this message by providing a next-level update on the tools, platforms, and tech we work with.
As part of Leadership Connect, our awesome leaders at Cisco share their career journey, what it means for them to work at Cisco, and why they continue to work here. Ultimately, being an inspiration for these students.
Our Culture and Community track provides an overview of the impact Cisco is having across our communities and what it means to live and breathe the Cisco Culture each day.
The Student Experience track focuses on providing all the information students need to help them advance their careers. As part of this track, EIC alumni from various colleges, along with Cisco CA (who are students in universities), create college-level connect sessions to ensure we have one-on-one touchpoints for every university.
Finally, the other side of us ensures that life at Cisco is not all about work. We provide opportunities to explore and celebrate talent across music, EROs, and showcase leadership skills in creating a positive employee experience.
Discover Cisco has been a great platform for us to be inclusive at scale. This has helped us spread awareness and increase our ability to attract students through the colours of Cisco. More information on Discover Cisco can be found at the link below: https://www.cisco.com/c/en_in/about/careers/discovercisco.html

Join us if you are passionate about innovation and see yourself as an 'intrapreneur.' Join us if you value empowerment, recognition, trust, fairness, respect, and camaraderie. Join Cisco to 'BE YOU, WITH US.'

Tags:

Tags: