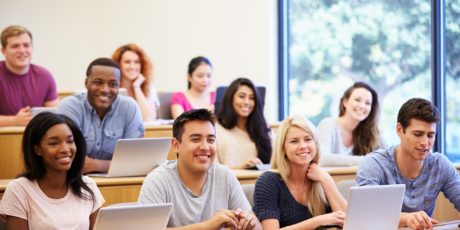 Digital Transformation
How Cisco is powering Digital Learning in Education?
The education landscape is now a highly connected learning environment, with the proliferation of mobile devices and the expansion of high-speed broadband infrastructure globally. Therefore, Cisco's Digital Learning strategy and messaging is perfectly placed to help our education customers achieve greater business and educational outcomes. The solutions set within the Digital Learning domain specifically addresses the teaching, learning and research imperatives of our education customers.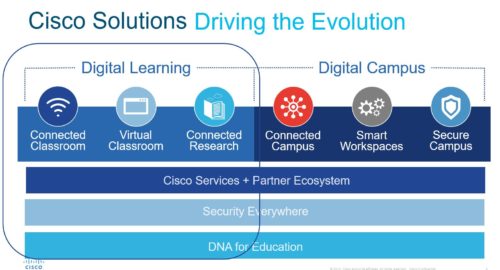 Some of the solutions Cisco has built around Digital Learning are as follows:
Connected Learning
Connected Learning is about creating a foundation technology-enhanced learning environment, fully leveraging BYOD (Bring Your Own Device), mobility, security and Internet access to enable a blended and seamless learning experience – anytime, anywhere, with any device, to any resource.
Learning Spaces
Learning Spaces are becoming one of the most discussed topics with Education Line of Business decision makers, as the attention turn from administrative efficiencies of education delivery towards that of academic effectiveness. This in turn drives the focus on learner engagement, and effectiveness of these technology-enhanced learning spaces in engaging learners and educators, effectively. Given the tech-savvy new generation of learners, the seamless engagement across learning spaces are also critical considerations.
Seamless Classrooms
Learning today is not confined to 1hr class or the physical boundary of the school. The latest industry trends suggest learning to be continuous – before the class, during the class and even after the class. Students should have access to a digital platform where teachers can give pre-work, record live lectures, to be made available on the same platform & answer queries/doubts after the class on the same platform – making it a seamless learning experience. This digital platform becomes a single window of engagement for all the stakeholders of a particular stream.
Employing a variety of integrated Cisco solutions, including Webex online meetings and Webex Teams all-in-one communications, Digital Learning is a complete live/online learning environment that can change where and how much students learn. Whether flipping, capturing, or enhancing courses, faculty members can easily create and schedule classes, then use our video and collaboration tools to fully engage students and improve outcomes.
Skills Build Solutions for Schools
India is a country today with 65% of its youth in the working age group. If ever there is a way to reap this demographic advantage, it has to be through skill development of the youth so that they add not only to their personal growth, but to the country's economic growth as well.
Cisco's Digital Learning Solutions boost the Skill Movement in India. Solutions like Connected Learning and Seamless Classrooms empowers school administration to provide learning into remote and rural areas using Webex platform.
Cisco Webex Teams is an app-centric cloud-based service that provides a complete collaboration suite for educators, students, administrators, and researchers. With Cisco WebEx Teams, students and educators can create, meet, message, call, whiteboard, and share, regardless of their location – on any app enabled device, such as a tablet or the Cisco Webex Board. All in one continuous work stream: before, during, and after class.
It is an enjoyable and secure space for teachers and learners of all types to get work done, whether together or apart. It is a space to create, share, and do.
Cisco Webex Teams' benefits are as follows:
Facilitate project-based learning: Organize students and educators in team spaces built for ongoing communication and sharing.
Connect physical and virtual classrooms: Build hybrid learning environments that integrate online resources with the Cisco Webex Board and other connected devices.
Learn anytime and anywhere: Connect to a single, continuous work stream with any device to create, meet, message, call, whiteboard, and share from anywhere.
Cisco Webex Board is a touch-based, all-in-one collaboration device that combines wireless presentation, digital white boarding, and video conferencing. The board works hand-in-hand with the Cisco Webex Teams app to connect physical and virtual classrooms for continuous learning.

Through this app, classmates can collaborate continuously – before, during, and after class. Remotely or in the classroom. Consolidating all of this functionality into a fully integrated software and hardware solution provides all the capabilities you need – whether in or out of the classroom – seamlessly in one easy-to-use interface.

Cisco Webex Board is a physical portal into the virtual classroom & is a perfect solution fit to boost Skill Development to remote students, making it more convenient & cost-effective means to impart learning.

For existing use cases and customer success stories, view case studies.

Tags: