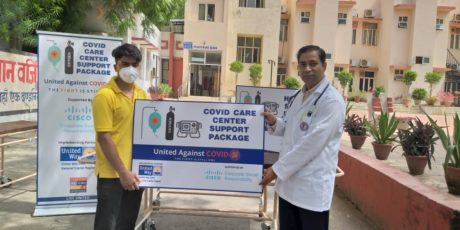 Uncategorized
Cisco's Commitment to help India's fight against COVID-19
There is no doubt that these last 18 months have been incredibly difficult for the world, as what was once considered "normal" has completely disappeared. The spread of the virus has taken an enormous toll on human life around the world and jolted us all out of our comfort zones. But these past few weeks, we have seen India as a country go from a place where everyone probably thought that the worst was over to a country bracing a destructive, implacable second wave, caught in the grips of a public health emergency and an overburdened healthcare system. But like they say, every cloud has a silver lining. Even the COVID situation is slowly but steadily stabilising in the country, bringing in a glimmer of hope and assurance.
The enormity of what is happening in the country throws light on the devastation this disease can bring and reminds us that its hold continues to impact people and communities all around us. It's heartbreaking even to imagine what many of our Cisco team members, their families, and communities in India are experiencing. As the country navigates through the tragedy, Cisco continues to explore new ways to support our employees, their families, and the communities they live in financially, emotionally, and medically.
We all know that there are no playbooks for such catastrophes in any organization, but COVID-19 has tested our resolve to be compassionate, understanding, and responsive to the challenges and crises. It has tested our ability to come together as a team and make conscientious and planned efforts to support all our employees and their families in India in the best possible ways.
As a part of this effort, we've doubled down on our commitment to India and our support to non-profit organizations on the ground. Through this, we hope we can help the front lines bolster their current operations.
In addition, it makes us incredibly proud to say that thousands of Cisco employees are reaching out to support India's fight against the pandemic. Over 7,000 Cisco employees from 71 countries have donated to a fundraising campaign that has raised over USD 1.4M, including donation matches from Cisco Foundation.
In addition to this, we're also working closely with our network of non-profit partners to provide maximum support to all our employees and communities in India.
In partnership with Swasth, we have supported Direct Relief to procure and distribute oxygen concentrators across the country in every medical facility.
We have also helped CARE, a global confederation, set up temporary health facilities, drive vaccine access, and provide humanitarian relief to the most vulnerable.
Via United Way worked towards augmenting medical equipment availability in 15 hospitals across NCR and Karnataka
Provided 18,200 ration kits to the most vulnerable communities across specific geographies via The Akshaya Patra Foundation
Procured and set up oxygen plants in hospitals
We are also working to organize a vaccination drive and camps for vulnerable communities
 We have been inspired to see how people in India and across the world, inside and outside of Cisco, have come together to help the country in the time of need. It gives us all tremendous hope, as the past year has only reiterated that kindness, compassion, and the willingness to help and doing what is right can get us through even the darkest times.
However, there is good news amidst all the gloom, as the second wave of infections has been showing signs of receding. We are now optimistic that India will be better prepared for the third wave and be on the other side of the crisis, to the better days we know lie ahead.
We are grateful for the generosity of our employees and thankful to be able to play a part in the India COVID-19 community response and recovery.